How our policy is developed
Oklahoma Farm Bureau is a grassroots organization and has been from day one. From the first meeting in 1942 to today, our members have always guided the vision and direction of the organization.
Each year, voting OKFB members in all 77 counties gather to write resolutions that address problems facing farmers, ranchers and rural Oklahomans. A committee of Farm Bureau members from across the state meets in October to review and condense the resolutions. The proposed resolutions then are presented for approval by the full delegate body at OKFB's annual meeting in November.
The resolutions passed by the full delegate body are placed into the OKFB policy book, which guides the organization's priorities for the next year.
OKFB members also have the power to make a difference in national agriculture and rural policy by submitting resolutions to the American Farm Bureau Federation to be considered at the AFBF annual meeting.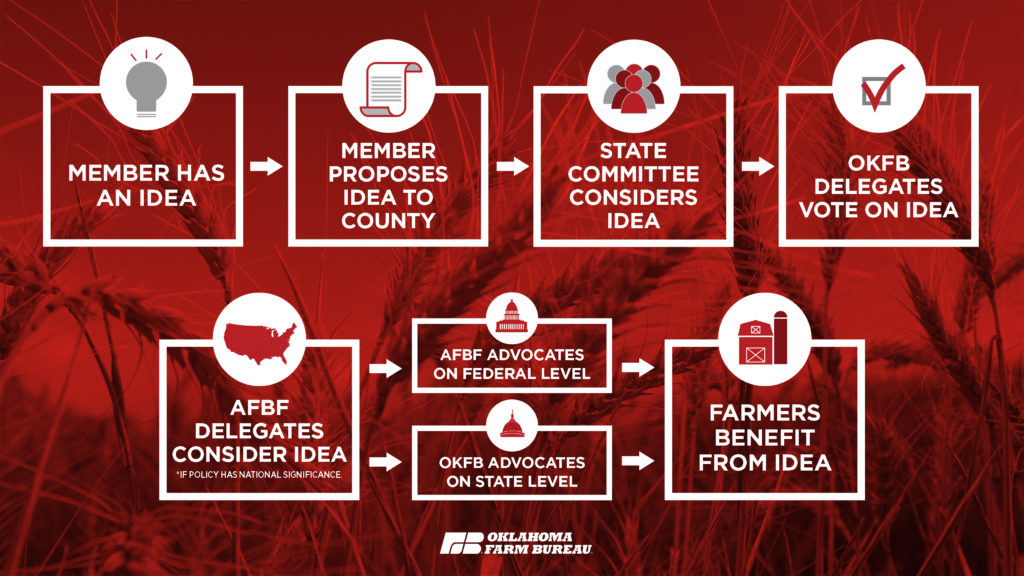 ---
Priority issues
Below are the organization's priority policies for 2019 as voted on by members and the OKFB board of directors.
Private property rights
We support landowners' private property rights.
We support easement and eminent domain reform.
We support the continued classification of feral swine as an invasive species and urge private and public property owners to eradicate them on their property, with the goal of complete eradication.
Taxes and finances
We oppose increases in ad valorem taxes.
We support protecting the existing agriculture sales tax exemptions on inputs used to produce our nation's food and fiber.
We support maintaining and constructing rural Oklahoma roads and bridges by restoring the funding and lifting the cap on the County Improvement Roads and Bridges Program.
We support legislative appropriations for OSU Cooperative Extension and Research Programs.
Rural health care
We support easing physician supervision requirements for nurse practitioners and certified registered nurse anesthetists to improve affordable and accessible health care in Oklahoma.
We support maintaining rural medical facilities with competent, trained personnel supported by telemedicine to larger health care facilities.
Regulations
We oppose regulations not supported by Oklahoma Farm Bureau policy.