How our policy is developed
Oklahoma Farm Bureau is a grassroots organization and has been from day one. From the first meeting in 1942 to today, our members have always guided the vision and direction of the organization.
Each year, voting OKFB members in all 77 counties gather to write resolutions that address problems facing farmers, ranchers and rural Oklahomans. A committee of Farm Bureau members from across the state meets in October to review and condense the resolutions. The proposed resolutions then are presented for approval by the full delegate body at OKFB's annual meeting in November.
The resolutions passed by the full delegate body are placed into the OKFB policy book, which guides the organization's priorities for the next year.
OKFB members also have the power to make a difference in national agriculture and rural policy by submitting resolutions to the American Farm Bureau Federation to be considered at the AFBF annual meeting.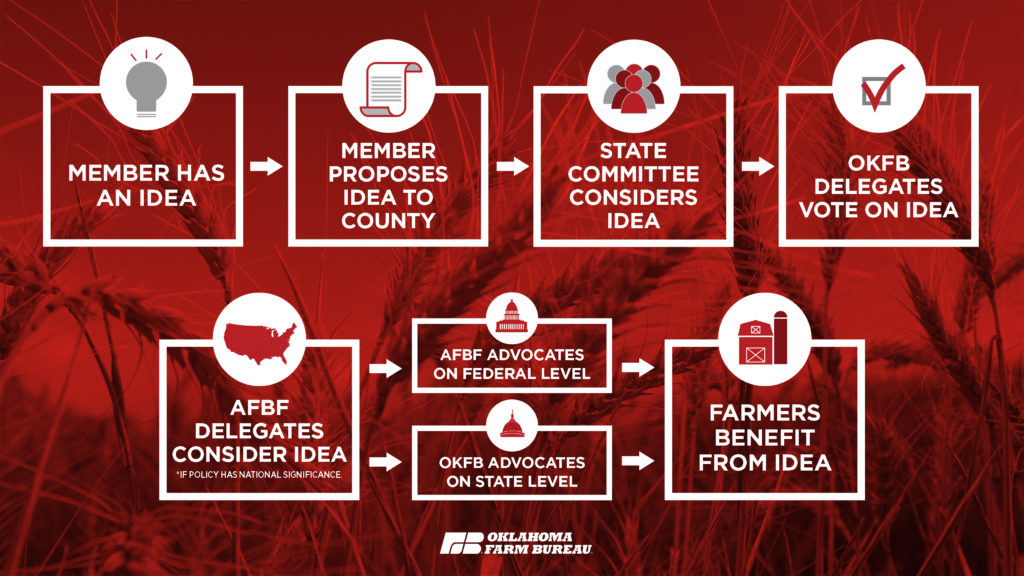 ---
Priority issues
Below are the organization's priority policies for 2020 as voted on by members and the OKFB board of directors.
Rural infrastructure
We support expanded high-speed internet and wireless phone service in rural areas of the state.
We support increased access to quality and affordable health care for rural Oklahomans.
We support funding for improved maintenance to roads and bridges in rural Oklahoma.
Landowner advocacy
We oppose new or increased ad valorem taxes.
We support all ad valorem elections requiring a 60% vote threshold for approval.
We support stricter requirements for municipalities to provide city services in annexed territory.
We strongly oppose all forms of county zoning authority.
Livestock & crop production
We support the existing agricultural sales tax exemption.
We support aggressive measures to control feral hogs, black vultures, white-tailed deer, Canada geese and other costly nuisance animals.
Cooperative Extension Service
We support funding for county extension offices in order to prevent consolidation and maintain at least one educator and one assistant in every county office, with a high priority on the 4-H youth program.