Welcome to Oklahoma Farm Bureau
Agriculture is a way of life in Oklahoma.
It's more than a job, more than merely a career option. It is a dream, a hope and a promise for a better tomorrow.
Oklahoma's farm and ranch families work the land, care for their animals and wisely harness our natural resources to grow food, fiber and fuel for Oklahoma and beyond.
Oklahoma Farm Bureau gives a voice to Oklahoma's farmers and ranchers, standing beside them and representing their rural way of life. Through member-driven grassroots advocacy, Oklahoma Farm Bureau gives a voice to farmers, ranchers and rural Oklahomans, regardless of what they farm, what they raise or where they live.
Oklahoma Farm Bureau members come from all walks of life and work in all facets of agriculture. Together, we work to ensure the best traditions of our state are preserved for the next generation of family farmers and ranchers.
We are Oklahoma Farm Bureau.
We are rural Oklahoma.
---
Our mission statement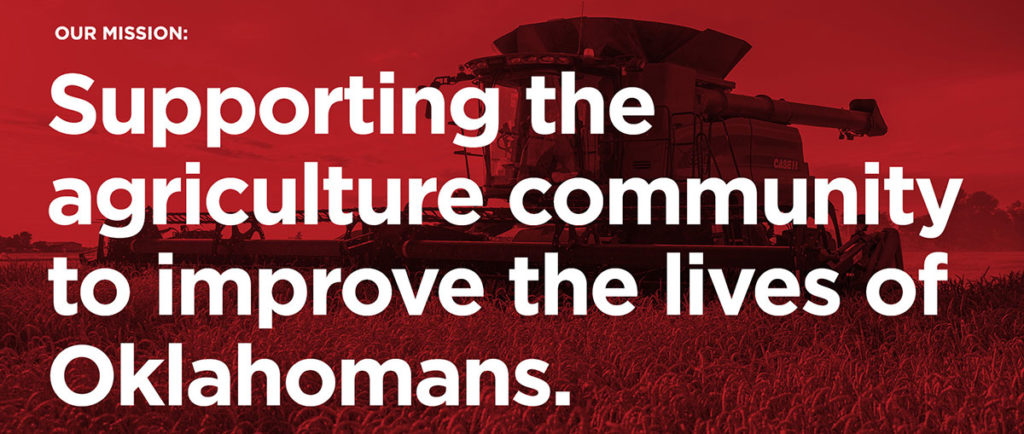 Our mission is simple: Oklahoma Farm Bureau members strive to improve the lives of all Oklahomans who daily rely upon the work done on our state's farms, ranches and in our local communities. OKFB works tirelessly to support our state's agriculturalists as they take on the vital endeavor of growing and raising agricultural products for a growing world. Because when rural Oklahoma is strong, it lays the firm foundation for all of Oklahoma to grow.
---
What is Farm Bureau?
Oklahoma Farm Bureau is a grassroots organization that gives a voice to Oklahoma's farmers, ranchers and rural communities. Directed and guided by Oklahoma farmers and ranchers, Oklahoma Farm Bureau advocates for our state's agriculturalists in rural communities around our state, at our state Capitol in Oklahoma City and in the halls of Congress in Washington D.C.
As Oklahoma's largest general farm organization with members in all 77 counties represented by 77 county Farm Bureaus, our work and efforts span all of agriculture as we work to ensure our state's farmers and ranchers can focus on what they do best: growing and raising the most affordable, safe and abundant food in the world.
Farm Bureau members are committed to improving the lives of rural Oklahomans and our urban friends through a variety of programs and engagement, including:
Taking an active role in supporting our rural communities through county Farm Bureau activities
Developing and implementing sound agricultural policies that ensure a stable, healthy and affordable food supply for all Oklahomans
Helping train and develop the next generation of agricultural leaders who will lend their voices to our industry
Providing agricultural education opportunities for state's students and supporting Oklahoma's youth in agriculture
Together, Farm Bureau members are working to ensure rural Oklahoma thrives. Because when our farms, ranches and rural communities are prosperous, all Oklahomans succeed.
---
Who can be a Farm Bureau member?
Oklahoma Farm Bureau members come from all walks of life.
Our membership is divided into two general categories: voting members and associate members.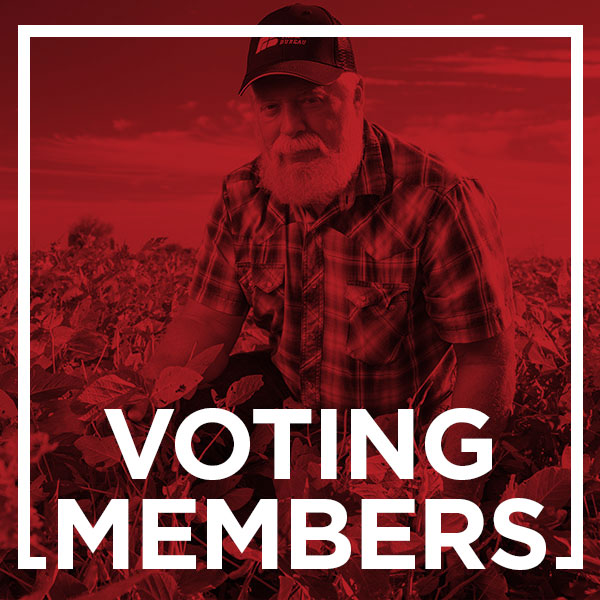 Voting members earn the majority of their income from production agriculture. (Each county Farm Bureau decides on the qualifications that make a voting member in their county). Mainly consisting of farmers and ranchers, our voting members create, vote on and enact our grassroots policy positions each and every year. Voting members can be county Farm Bureau board members and hold seats on our statewide committees.
Associate members do not earn the majority of their income from production agriculture, but join with Oklahoma Farm Bureau to play a vital role in supporting our advocacy efforts for family farmers and ranchers. Nonvoting members receive the same member benefits voting members have, including access to Oklahoma Farm Bureau Insurance products and a variety of discounts and money-saving benefits.
Whether you farm, ranch, live in a rural community or if you simply want to help preserve and protect Oklahoma agriculture and our rural way of life, an Oklahoma Farm Bureau membership is a great way to be a partner for Oklahoma.
---
What Farm Bureau believes
America's unparalleled progress is based on the freedom and dignity of the individual, sustained by basic moral and religious concepts.
Economic progress, cultural advancement, ethical and religious principles flourish best where people are free responsible individuals.
Individual freedom and opportunity must not be sacrificed in a quest for guaranteed "security".
In government by legislative and constitutional law, impartially administered, without special privilege.
In the representative form of government as provided in our Constitution and in limitations on government power.
In maintenance of equal opportunity.
In the right of each individual to freedom of worship and in freedom of speech, press, and peaceful assembly.
That individuals have a moral responsibility to help preserve freedom for future generations by participating in public affairs and by helping to elect candidates who share their fundamental beliefs and principles.
That people have the right and the responsibility to speak for themselves individually or through organizations of their choice without coercion or government intervention.
In the right of every person to choose an occupation; to be rewarded according to his contribution to society; to save, invest or spend; and to convey his property to heirs.
That legislation and regulations favorable to all sectors of agriculture should be aggressively developed in cooperation with allied groups possessing common goals.
Property rights are among the human rights essential to the preservation of individual freedom.
---
Join Oklahoma Farm Bureau
You can help support Oklahoma family farmers and ranchers with a Farm Bureau membership. Join Oklahoma Farm Bureau online today or visit your local County Farm Bureau office to sign up for a membership that matters.
Be sure to check out all the benefits an Oklahoma Farm Bureau membership provides.