Reward program to protect OKFB members' property
Looking out for our neighbors is a way of life in rural Oklahoma.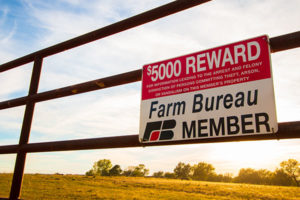 To help discourage crimes such as theft, arson or vandalism on Oklahoma Farm Bureau members' farms or rural property, OKFB is proud to provide our $5,000 reward sign program as a benefit for our members.
A $5,000 reward is offered for information leading to a felony conviction for theft, arson, or vandalism on an Oklahoma Farm Bureau member's property. A reward sign must be hung on the OKFB member's property for the reward to be paid.
Additional conditions and limitations apply. For full details or to get your own reward sign as part of your OKFB membership, contact your county Farm Bureau office.