Save an average of 36% on prescriptions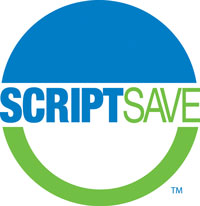 Start saving on your prescriptions today with ScriptSave! Get instant savings on all brand-name and generic drugs anytime you pay out-of-pocket for your prescriptions. Your entire household can save at over 62,000 pharmacies nationwide. Savings average 36%, with potential savings up to 75% (based on 2012 national program savings data). All prescriptions are eligible for savings. No enrollment or membership fees, deductibles or claim forms to complete.  Visit ScriptSave's website to find out more and log in using Group #189A. You can also print your own cards for savings here.
Important Announcement for Walmart and Sam's Club Pharmacy Customers: Walmart Corporate is deactivating all customer profiles in their pharmacy systems associated with prescription discount cards. Walmart now requires card holders to show a physical or digital card to the pharmacist to receive a discount. To assist you in managing this change, please show your Prescription Savings Card to the pharmacist each time you fill or refill a prescription.