---
Sustainability is an often-used word that can mean a variety of things to many people. To Kyle and Sheri Glazier of Kingfisher County, sustainability is something they focus on each and every day.
"Sustainability to me is leaving it better than you found it, taking care of the land and soil while still providing for our family," Kyle said.
Growing a variety of crops – sesame, milo, alfalfa, hay, wheat and cover crops – depending on the year and environmental conditions, such as drought, is just one of the many ways the family practices sustainability on their land.
"We really take pride in the way we care for the land and the care we give our animals from start to finish," Sheri said. "Our cattle and crops all have to be integrated together. If a crop is not complimentary to cattle, then we are really going to reconsider it.
"I think it is definitely how we have somewhat pivoted our approach to how we think about using the land, the crops that we are choosing while also keeping cattle in mind too."
Kyle and Sheri take pride in the ways they overcome and adapt to the changing tides that come their way. Diversification is a practice they truly embrace.
"We also have our own beef brand – Glazier Farms Beef," Sheri said. "We take pride in all of the work that we do. It has been really fulfilling to close that gap for a lot of people. I want people to be confident in the beef that they feed their family, whether it is ours or from the grocery store."
Packing the orders at the kitchen table with their children – Kol and Gentri – has become a way for the family to connect with their customers while making food production become full circle.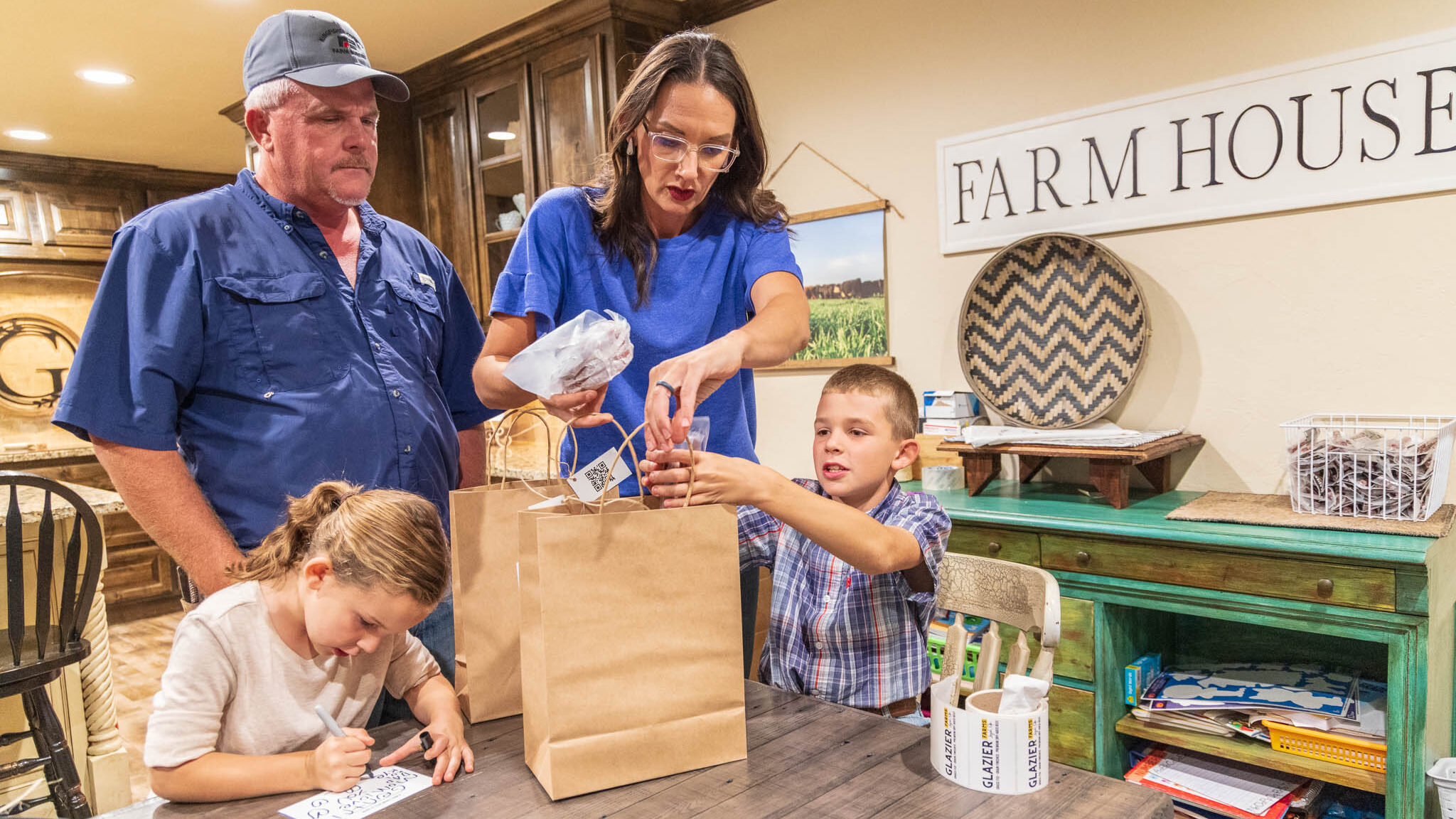 While the custom beef brand puts a face to where the food is coming from, Sheri also shares the value of incorporating beef and proteins into a diet as a dietician. Known by her moniker Dirt Road Dietician, named after the county road where the Glazier family farm is located, Sheri works to bridge the gap between farmers and consumers, ensuring families are making healthy, informed decisions when making food choices.
"The people that I am working with – I ultimately want them to know all of the work we do behind the scenes and put a face to the food that comes to the table," Sheri said. "We really feel like we can never stop learning. We can never stop learning from consumers, and we can never stop learning how to better the land that we are caring for, the children we are raising and everything that comes with a business."
There are many ways the Glazier family embodies the concepts of diversification and stewardship of the land, but family continues to be at the center of everything.
Kol and Gentri are always along for the happenings on the farm and ranch. Whether in feed truck or on the tractor, they are always soaking up everything there is to know about the agriculture industry.
"To me, there is no better place to raise a family than right here on the farm," Kyle said. "No matter what we are doing, we are doing it as a family. We are constantly helping each other out."
---