Building On the Family Heritage
James and Sharon Pittman of Okmulgee always knew they wanted to be involved in agriculture. Each growing up on family farms and ranches in eastern Oklahoma, the couple longed to continue in their family tradition of agriculture.
"I guess I've been in agriculture all my life," James said. "It's a good life. I always felt like it was a good way to raise children as well as raise livestock. I wanted that experience for my children."
Though it took years of hard work and determination, together the couple has created for themselves – and the generations that follow them – an opportunity to continue in the way of life they love.
The Pittmans now run a black Angus cattle ranch in Okmulgee County that began with both of their families' operations.
Early on in their marriage, as James began a career in the oil and gas industry and Sharon worked as an elementary school teacher, the couple also continued to help on their family ranches while slowly growing their own cattle herd.
Just a few years later, the Pittmans purchased their own 80-acre tract of land and relocated their herd from their parents' ranches.
Deeply longing to pass down their love for agriculture to the next generation, the Pittmans taught the value of hard work and responsibility to their four children, Jeremy, April, Jamie and Emily, by raising them on the family ranch. 
"(Agriculture) is just what I always wanted to do," James said. "Sharon and I both grew up on the farm, and it was just a way of life that we wanted. And it's a way of life we wanted to share with our kids, also."
After spending more than 20 years working in the oil and gas industry, the Pittmans had built their operation to a point that demanded James's full-time attention. Today, the family ranch consists of more than 1,600 acres and 250 head of cattle.
The couple now has the chance to share the family's legacy with two of their grandchildren, Matthew and Thomas, who both work on the ranch full time during the summer and as needed throughout the school year.
Though his grandchildren have yet to express a desire to return to the ranch full time, James said involving his grandsons on the farm is a fulfilling experience.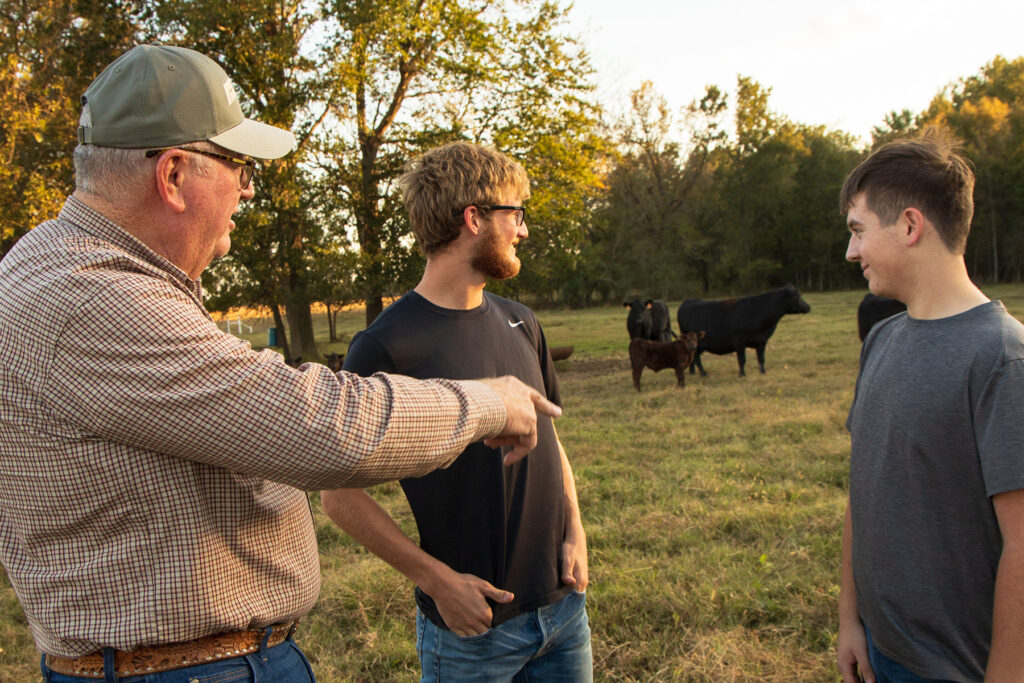 "It's rewarding that we can share this experience with our grandchildren to the level that we can," he said. "There's a lot of pride in knowing that they will have the experience that very few people in this country get to have."
James's passion for continuing the family's tradition in agriculture also means he is deeply committed to ensuring a bright future for the industry through involvement in multiple agricultural organizations.
"Being in production agriculture, regulations are one of the most difficult hurdles we deal with," James said. "If we're not using the voices available to us in production agriculture, we could be legislated out of business very quickly."
A Farm Bureau member for decades, James plays his role in helping voice the concerns of farmers and ranchers as a nearly 20-year member of the Okmulgee County Farm Bureau board.
"I felt like Farm Bureau is the best organization in the state that's trying to help us preserve our rural way of life," he said. "I just wanted to do my part."
Ultimately, the Pittmans take pride in knowing their agricultural heritage means providing for other families just like theirs.
"There's a certain satisfaction that comes from being able to produce food and fiber for not only my family, but many other families, and having the independence and the freedom to do that," James said.
---