Facing skyrocketing fertilizer and fuel prices, Oklahoma farmers and ranchers strive to build upon their agricultural heritage with the pressures of input prices, drought and world events weighing on their minds – and their pocketbooks.
Every time Clint Wilcox jumps into the cab of a tractor, a sprayer or a combine on his farm, he is taking the next step in a long line of decision-making he has painstakingly planned.
With each pass in the field – whether it be to plant, to fertilize or to harvest – he is carefully balancing natural resources, time and inputs that he hopes will produce a crop he and his family can be proud of.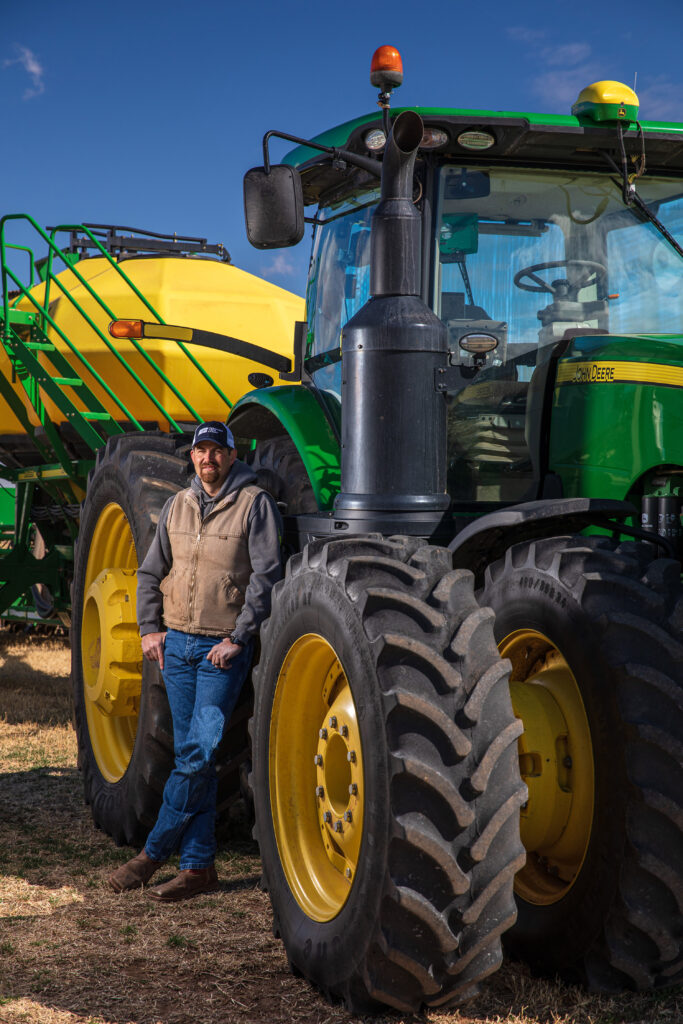 And just like everyday Americans have seen inflation and supply chain shortages hit their pocketbooks as they buy even just the basic necessities daily life requires, farmers and ranchers like Wilcox are facing skyrocketing prices for fertilizer, fuel and equipment – all of which must be purchased before a single seed can be planted.
Wilcox, a wheat, cotton, milo and cattle producer near Fairview, like many producers across the country, has been spending his time analyzing costs of operation and returns on investment for his farm and ranch.
"You can't starve a profit out of anything," Wilcox said. "It's true in this industry and any other industry – without investment, businesses do not go anywhere."
After a seed is planted into the soil, it has to overcome a lot of time, weather and world events before making its way through the combine and to the grain elevator.
One of the major inputs farmers use on their operations is fertilizer, which now comes with an increasingly hefty price tag.
"Fertilizer has jumped dramatically in the past year or year and a half," said Keeff Felty, a wheat and cotton farmer near Altus. "Depending on when and how you purchased it, the cost of fertilizer has definitely tripled."
Wilcox recalled the outlook of prices a year ago for urea ammonium nitrate, a common liquid fertilizer applied to fields to increase the nitrogen levels in soil.
His operation applies 28% UAN to the fields, and in February 2021, he could buy a load transported to his farm for $145 per ton.
Then after winter storms last year, the price jumped to $300 a ton for the same load. However, farmers found it difficult to find fertilizer because fertilizer plants elected to sell their natural gas – a key input of nitrogen fertilizer production – for home and business heating during the extended cold snap.
"At this point, I think depending on which supplier you talk to prices are anywhere from $545 to $600 a ton," Wilcox said. "It has taken a big increase, and those prices are just for your nitrogen fertilizer."
Felty follows a simple calculation when deciding how much nitrogen to add to his wheat crop. For every bushel of wheat, he adds two pounds of fertilizer to the soil.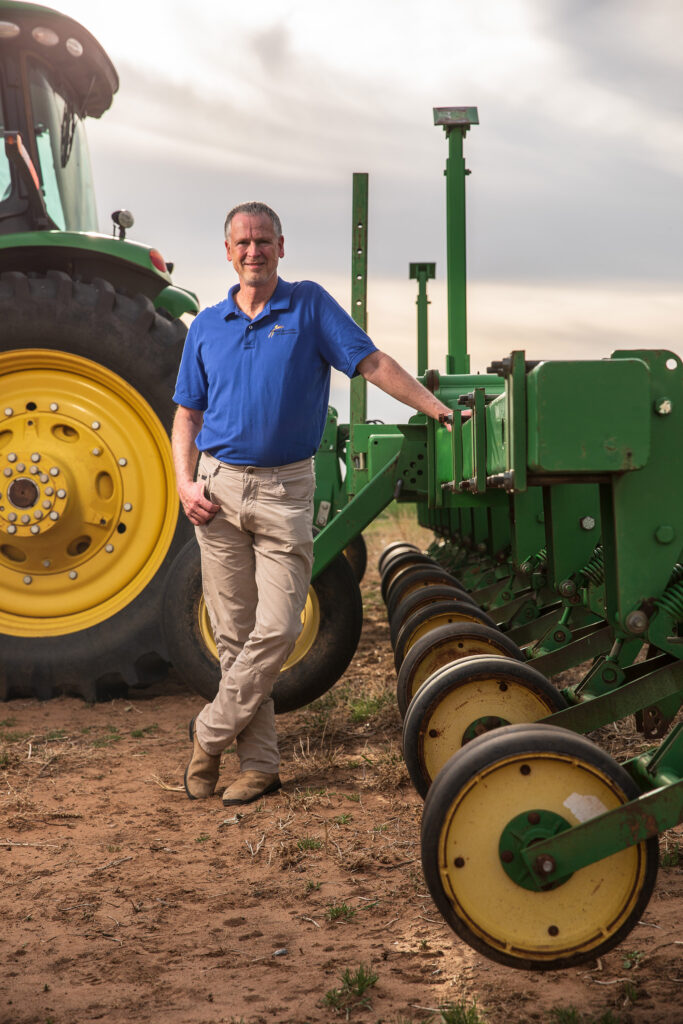 "I do split applications of fertilizer for the macronutrients," Felty said. "There are certain times the plant really needs it, and there are other times it does not have such a demand for fertility, especially nitrogen."
Nitrogen, phosphorus and potassium are the three key nutrients all crops require to grow, and these macronutrients must be added to the soil to ensure a healthy crop can flourish.
Both the phosphorus and potassium fertilizers Wilcox typically applies have more than doubled in price in the past year, he said.
While prices for fertilizer are high right now, Wilcox has been able to avoid some of the major costs associated with applying fertilizer by investing in another resource for his farm – storage.
"Because we have bought fertilizer cheap compared to the current market, we know that we have cheap fertilizer sitting in the tanks that we can use on the next crop cycle and not have to buy the high-dollar stuff if we would just save it," Wilcox said. "Just because we have bought lower-price fertilizer does not make it easier.
"I think the point we are at right now is the producers who bought in advance in the past ten months have made good decisions. The issue is even those producers are going to take part in purchasing extremely high input prices here in the next six months."
Felty and Wilcox have each purchased fertilizer throughout the previous months to have a supply on-hand to make it through the current growing season for both their wheat and cotton crops.
Wilcox said taking the extra 30 minutes to call around to find the lowest price for a nitrogen-sulfur blend fertilizer was well worth the effort.
"I had two bids that were $66 a ton higher than my lowest bid," Wilcox said. "One of the $66 bids would have been my first call, and if I would have decided to just wing it, $66 more a ton for 25 tons would have cost me an additional $1,650 more for just one load.
"If someone had a running total of how much they saved each year comparing prices and contracting in advance, it is crazy how many dollars someone could save."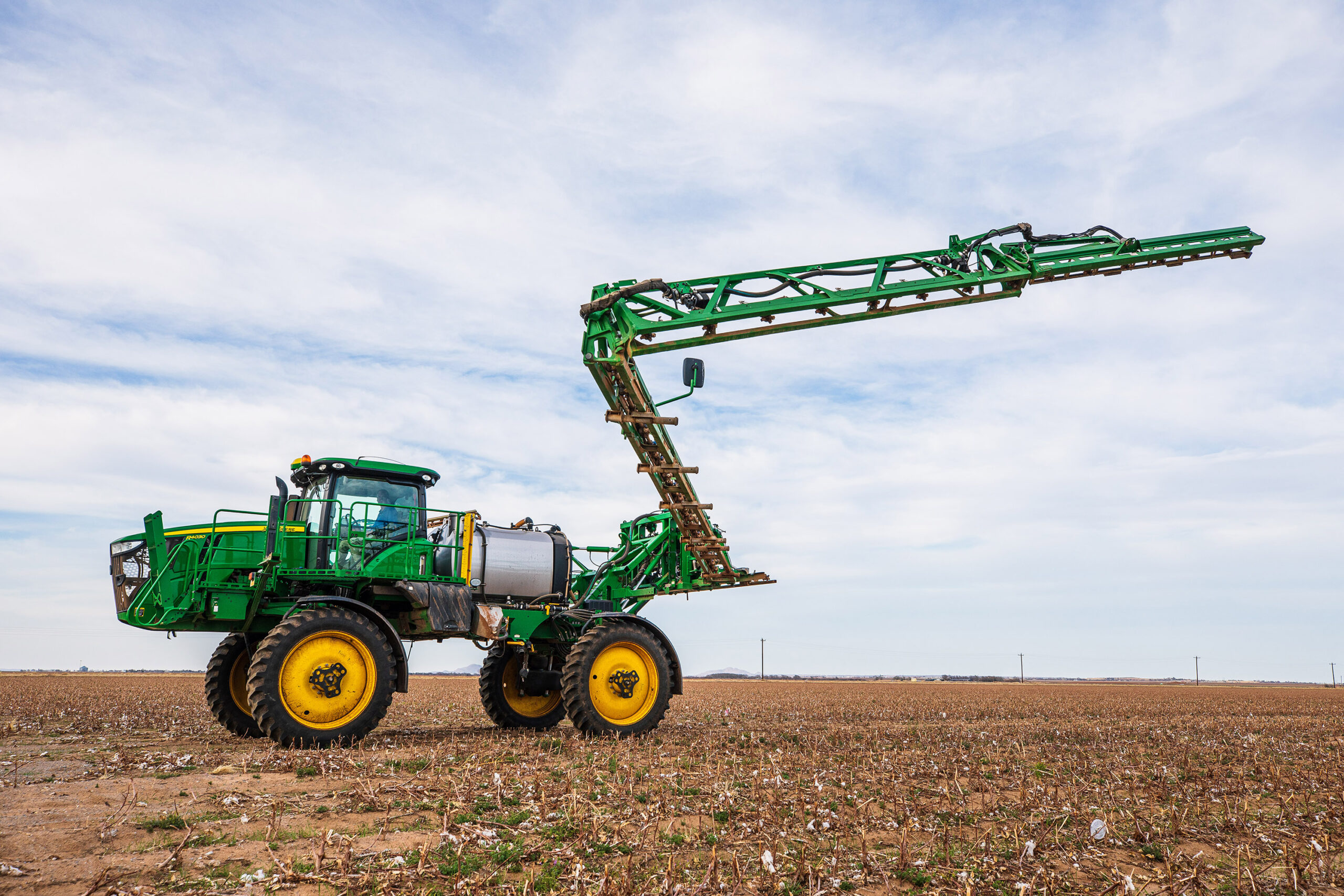 "Without the land, you basically have nothing to work with. Everything else farmers and ranchers do is just expensive toys if you do not have the land for production. All of the growth for crops comes from the soil."
– Keeff Felty
Once the fertilizer is purchased, farmers still need to apply the fertilizer to their land, requiring yet another input: off-road diesel.
Consumers are feeling the pinch at the pump when purchasing 20 gallons or less of fuel for their vehicles to get around town. On the other hand, farmers and ranchers must dig deep into their pockets to purchase hundreds or thousands of gallons of diesel at a time.
Farm equipment requires large amounts of fuel to make hundreds of passes through fields. Whether it be planting seeds, spraying fertilizer or chemical or harvesting a crop, each pass through a field is essential to the success of the growing season.
Felty uses a mobile fuel tank to fill his tractors and cotton picker because he said it fits his farm better than a large stationary tank.
"Fuel use is cyclical with crop production," Felty said. "We have been in a time period where we are not using a lot of fuel. So far this year, we have not gotten back into a high-use time frame, so the price increase from last fall is going to be noticeable because diesel has nearly doubled."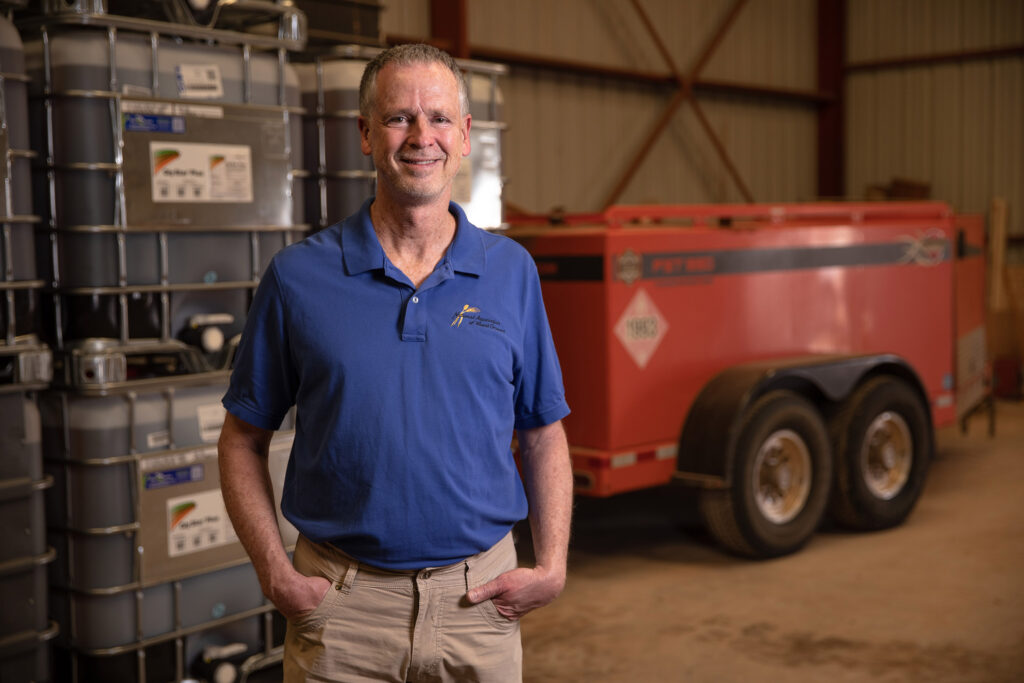 Wilcox's operation requires the opposite end of the spectrum – he has a stationary bulk fuel tank, which can hold enough diesel to last the family a full planting or harvest season. Even though he is not planting or harvesting a crop right now, he continues to apply fertilizer as needed.
He has been able to work with a local supplier to contract his diesel purchases two years in advance. While current prices are around $5 at a fueling station, some producers were able to save money because they contracted fuel when it was less than $2 per gallon.
"Yes, fuel is a large expense for our operation, but it is not anywhere near my largest expense," Wilcox said.
For many producers, diesel costs look minor to the cost of fertilizer.
Producers understand the additional costs added in the input column each time fertilizer is applied, so why not ease up on the inputs in effort to save money?
Felty compares adding fertilizer to the soil to stocking a refrigerator with food.
"If the refrigerator is empty, you are going to be hungry, and you are not going to flourish or be able to accomplish anything," Felty said. "It is the same way for the plant. You cannot continually take nourishment away from the soil. You have to give back at some point."
Just as it costs money to fill a house with food, raising a quality crop also has a cost.
While applying fertilizer increases yields for crops, environmentally there are great returns stemming from the practice. Farmers and ranchers press on as the original conservationists, and fertilizer helps them in this mission.
"A thick, lush healthy crop holds our soil in place, and the residue left from that crop holds our soil in place and builds more organic matter, which naturally in the future holds more nutrients and moisture in place," Wilcox said. "It protects our watersheds because of less erosion."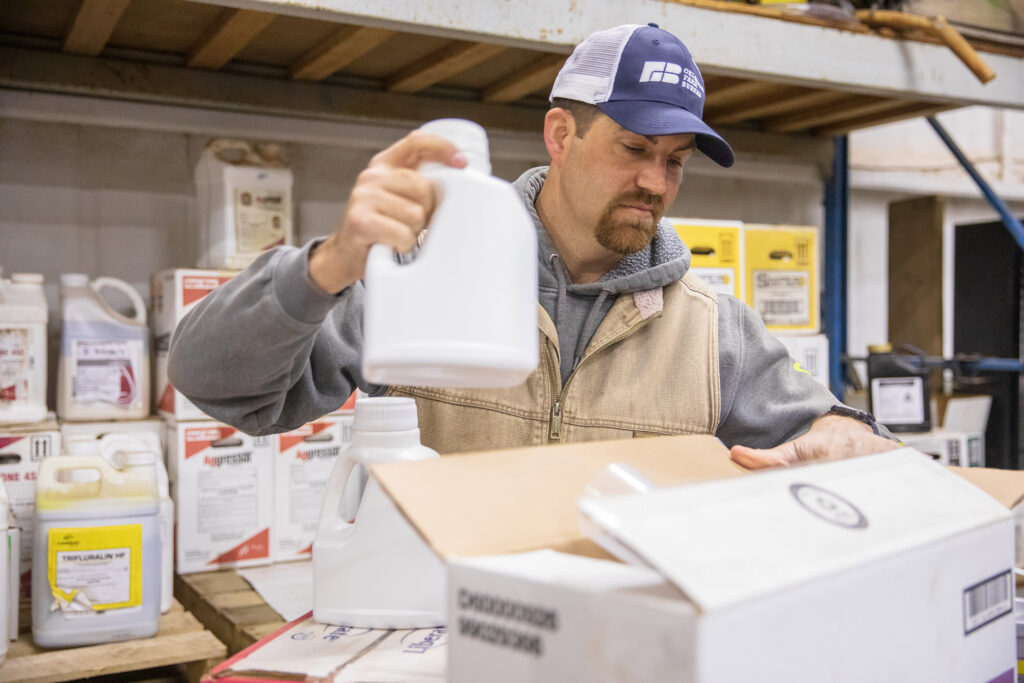 Previously, fields were cultivated after harvesting a crop, but Oklahoma's wind and rainfall can blow and wash away tilled fields, especially precious topsoil. To protect the soil, some farmers, such as Wilcox and Felty, have changed to minimal- or no-till operations.
"Without the land, you basically have nothing to work with," Felty said. "Everything else farmers and ranchers do is just expensive toys if you do not have the land for production. All of the growth for crops comes from the soil."
Adding fertilizer to the soil does not mean anything if the weather does not cooperate. Farmers select crops that will give them the best chance of producing a solid crop, but yields are still highly dependent on the amount of rain that falls during the growing season.
"This year, we are really dry," Felty said.
He sprayed some pre-plant fertilizer over the summer before planting his wheat in the fall, but he is not going to add any more because of the drought that the entire state – and especially western Oklahoma– is facing.
All producers share the same sentiment – their fields and pastures need multiple accumulating rainfalls now through the end of the growing season in order to produce a crop worth anything.
No one can predict the weather past a few days, let alone months, which adds another level of uncertainty to farming and ranching. Producers have to make costly decisions months– even years – in advance.
Wilcox said he is considering contracting next year's fertilizer and fuel to capitalize on current prices, but the uncertainty continues. The current wheat crop does not look promising.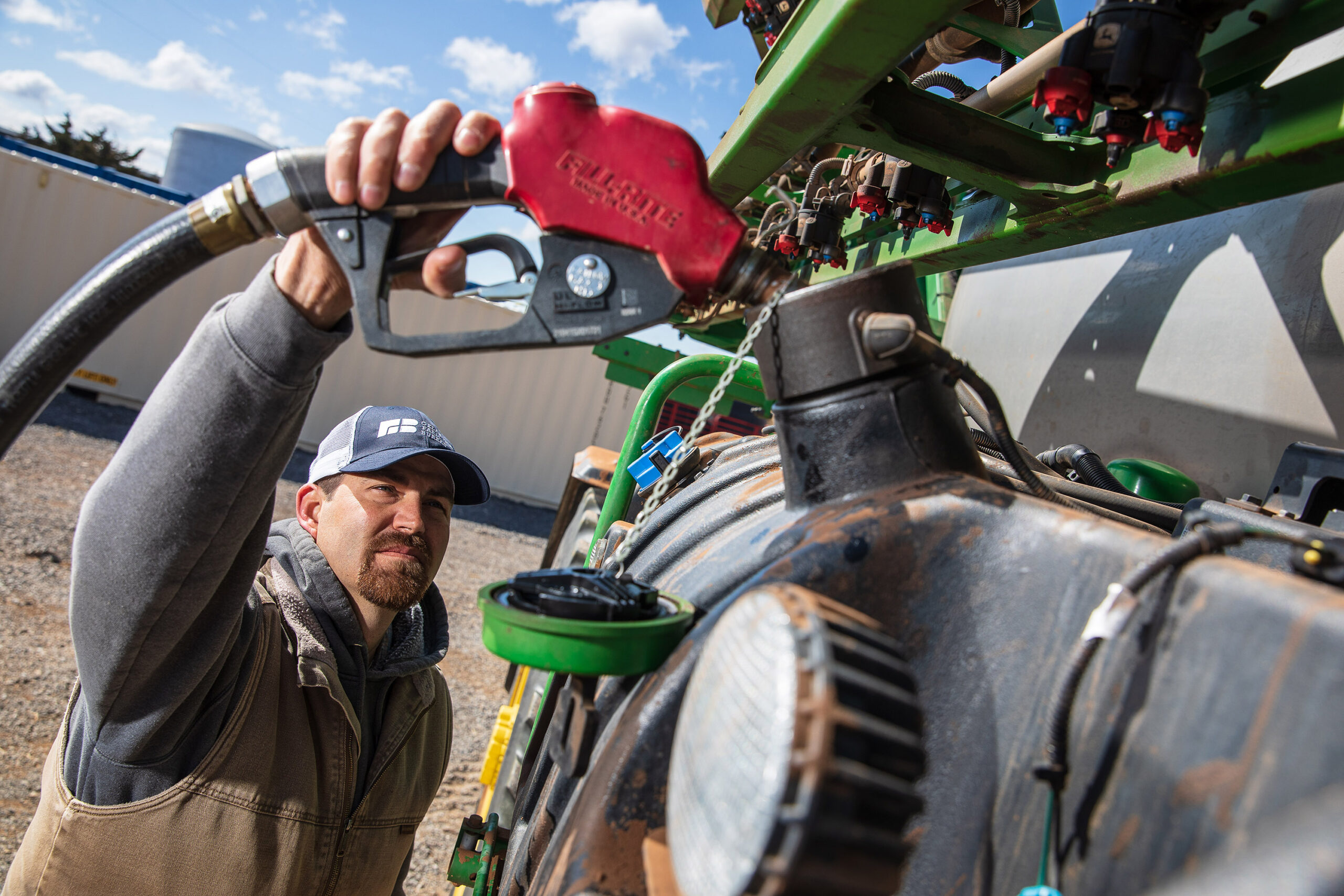 "You can't starve a profit out of anything.It's true in this industry and any other industry – without investment, businesses do not go anywhere."
– Clint Wilcox
He and many other producers are having a hard time coming to grips with purchasing fertilizer for next year when the current crop is still in early growth stages.
"We are getting so far up on prices you do not know when everything may fall off the cliff," Wilcox said. "If you buy or contract wrong, it is hard to want to lock in this $10 per bushel wheat in with what is going on in the world. If you are buying fertilizer at today's prices for next year, you better have done something to protect next year's price of wheat."
Because agriculture is a global market, the Russian invasion of Ukraine adds a level of reservation for purchasing inputs too far into the future.
"Right now, in the environment that we are in, how do you know what a good profit is?" Wilcox said. "The issue becomes how do you know how much profit you need from this crop to ensure you can put the next one in?"
He said before the humanitarian crisis in Ukraine began, he thought he knew what a good value of wheat totaled to, but the roller coaster of prices for commodities and inputs pressures a person spend a bit more time making calculated decisions.
No matter what is going on in the world, Felty carries on making sound decisions for the long-term success of his farm, even if that means long hours sitting at the table compiling the best quotes to make the operation run smoothly.
Crop rotations, nutrient management, marketing commodities and a long list of other considerations are just the tip of the iceberg when making decisions to grow a good crop.
Farming and ranching requires endless hours of hard work, yet it is rewarding to see the product of the soil.
"The good that comes from walking a lush, beautiful field cannot be compared to anything," Wilcox said. "There is nothing like it when you planted the seed, and you have made the decisions from day one.
"A well-taken-care-of crop when the weather is in your favor is beautiful. There are times when I have a hard time getting anything done because all I want to do is drive around and look at fields."
Despite the challenges agriculturalists face, they still strive to produce the safest and most affordable food, fiber and fuel for all Oklahomans and the world.
"There are good years and bad years, but the good years outweigh the bad years for me," Wilcox said. "Behind my family, growing a good crop is the most important thing in my life."