By Rodd Moesel
Oklahoma Farm Bureau president
I love gathering with our Farm Bureau family.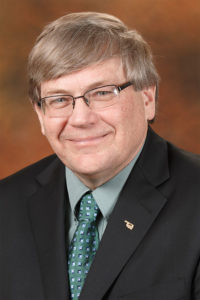 Oklahoma Farm Bureau is a special organization because of the people. Throughout my time as a member, I have met a wide array of folks from across our state and our nation who expanded my horizons, enriched my life and elevated my understanding of agriculture.
As the year 2020 continues to unfold, we have all made changes to our plans, adjusted the way we engage with other people and made sacrifices in the short term that will hopefully get us back to normal as quickly and safely as possible.
One of those sacrifices the OKFB state board of directors made was the decision to cancel our 2020 in-person annual meeting and to hold a virtual business session in its place. The board also voted to pause our grassroots policy development and pick up our policy work again next year.
The decision to cancel our in-person annual meeting, which we have done for decades, and move to a virtual business session was not taken lightly. It was thoughtfully and thoroughly considered.
As we held this year's August Area Meetings, we asked Farm Bureau members for their input on how we should proceed with our annual meeting. Each member of the OKFB state board visited with members in their district and with their county Farm Bureau leaders to determine the best path forward. I have heard from fellow state Farm Bureau presidents from around the nation and learned about their plans for meetings. Our staff have been in contact with our friends at various groups and organizations in Oklahoma to see how they are conducting their gatherings.
When the OKFB state board sat down to consider a path forward, we laid out all of our options on the table, and chose to hold a virtual business session in place of an in-person convention because we felt it was the best option to conduct our organization's required business while providing for the health and safety of our members and staff.
Personally, I will truly miss the opportunity to meet with our fellow Farm Bureau members face-to-face. Gathering as one voice for agriculture and rural Oklahoma is a highlight of my year, and I know my fellow members feel the same way.
While we may be moving from our normal convention format to our online business meeting, the state board decided to use our successful August Area Meeting model to allow regional gatherings of Farm Bureau members. We will be organizing a central place to meet in each of the nine OKFB districts where members can gather and participate in our virtual business meeting on Thursday, Nov. 5 at 6:30 p.m. We will be observing the best practices and safety protocols to ensure these regional gatherings are done safely while still allowing for some of that famous Farm Bureau fellowship.
Details about our virtual business meeting will be announced on our OKFB website as soon as they become available at okfarmbureau.org/meeting2020.
I want every Farm Bureau member to know that we will continue to work as an organization to advocate for agriculture and rural Oklahoma. The state board has had many discussions with our members, and the general consensus was that our organization's policy positions are strong. For that reason, the board decided to postpone our grassroots policy development process until 2021, when we will pick up where we left off this year. Our staff will continue to monitor any emerging issues, and the state board is committed to providing guidance and direction to ensure our organization continues to stand up for our values. For counties that held their resolutions meeting, please forward those on to our home office so we can see the issues that are on your mind.
We will also make sure that we properly conduct the business of OKFB as we hold in-district caucuses for the three state director races this year, along with the three Women's Leadership Committee seats up for re-election. Our WLC will also hold a virtual caucus to elect their state chairperson, and our Young Farmers & Ranchers will caucus to elect their leaders.
Again, this is a situation that none of us ever imagined we would face. But I am proud of the hard work our Farm Bureau leaders have invested in ensuring that we will have a virtual business meeting so that the important work of Farm Bureau continues on in Oklahoma.
And I am looking forward to seeing you in 2021 in Norman as we gather at next year's convention and carry on our important mission.
View our 2020 Online Business Meeting web page for full details on our year-end events.