We are so excited to celebrate 80 years of Oklahoma Farm Bureau at the OKFB Annual Meeting Nov. 11-13 at the Embassy Suites and Convention Center in Norman.
OKFB's annual meeting serves as the largest yearly gathering of Farm Bureau members from across the state. Featuring general sessions, Young Farmers and Ranchers competitive events, a Women's Leadership Committee conference, organizational awards, business sessions and the opportunity to connect with like-minded agriculturalists, there is something for members of all ages and interests.
This year's theme – Production to Consumption – recognizes OKFB members' hand in every step of food production from tilling the soil to placing agricultural products on the shelf. Our farmers and ranchers understand what it takes to feed, fuel and clothe the world.
OKFB members will work to improve agriculture and the rural way of life through policy development, engaging speakers, and leadership and personal growth sessions.
Find all of the details below, including the up-to-date schedule.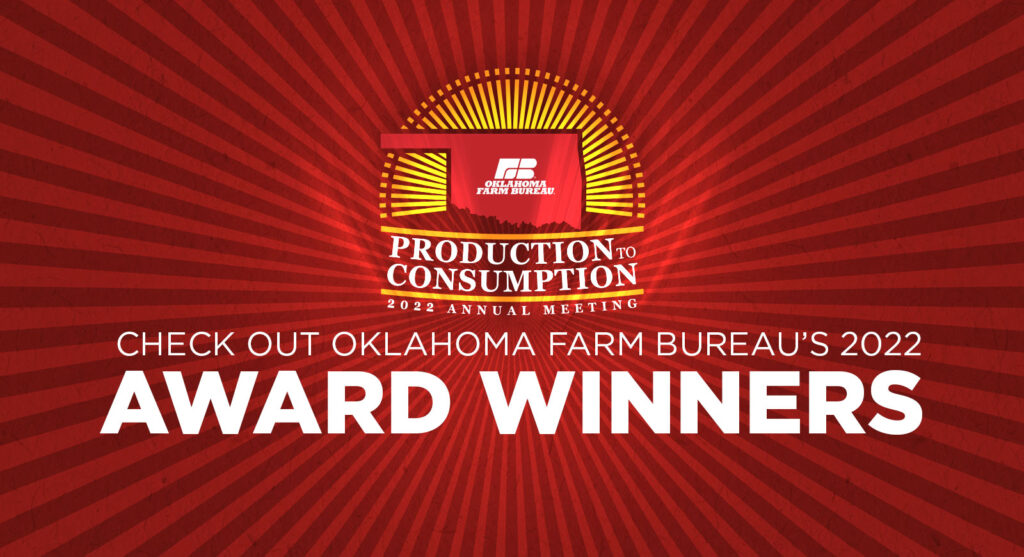 2022 OKFB Awards
View a full list of awards and recipients from the 2022 OKFB Annual Meeting.
---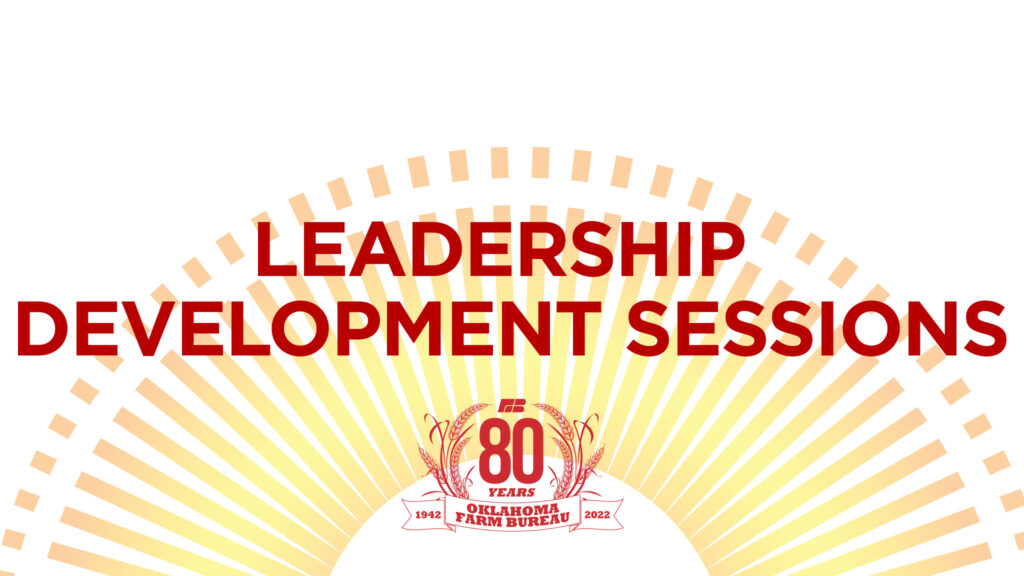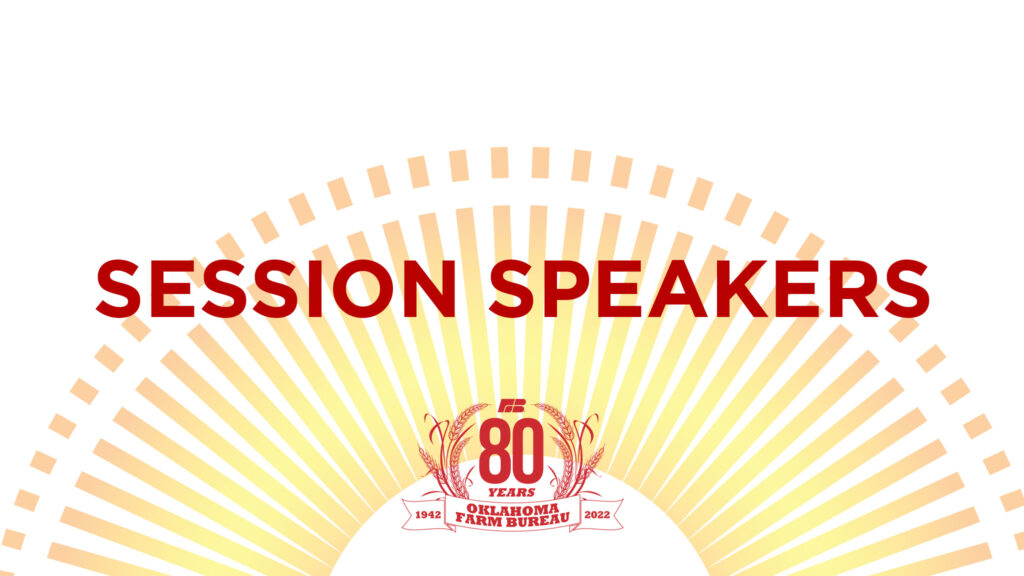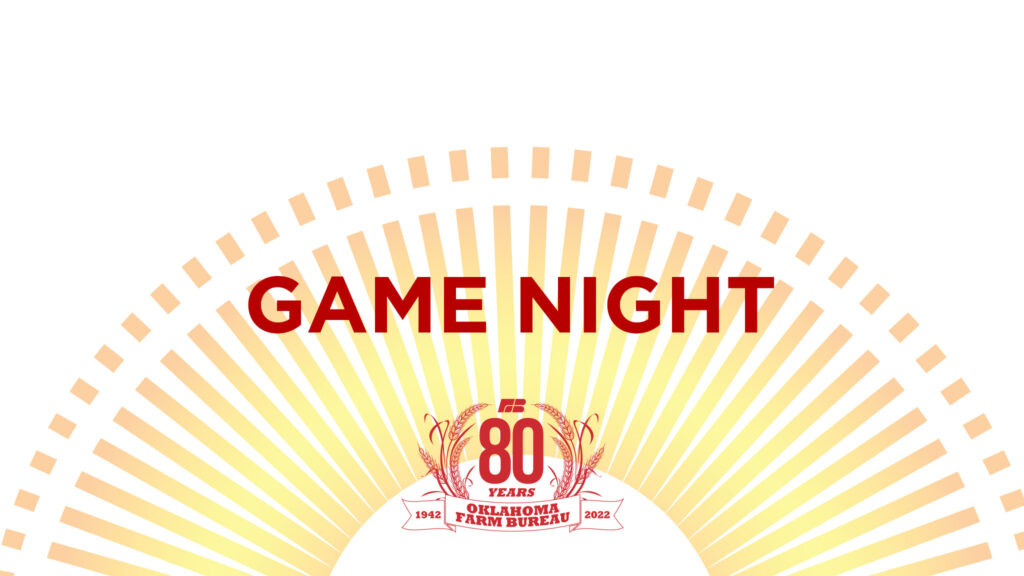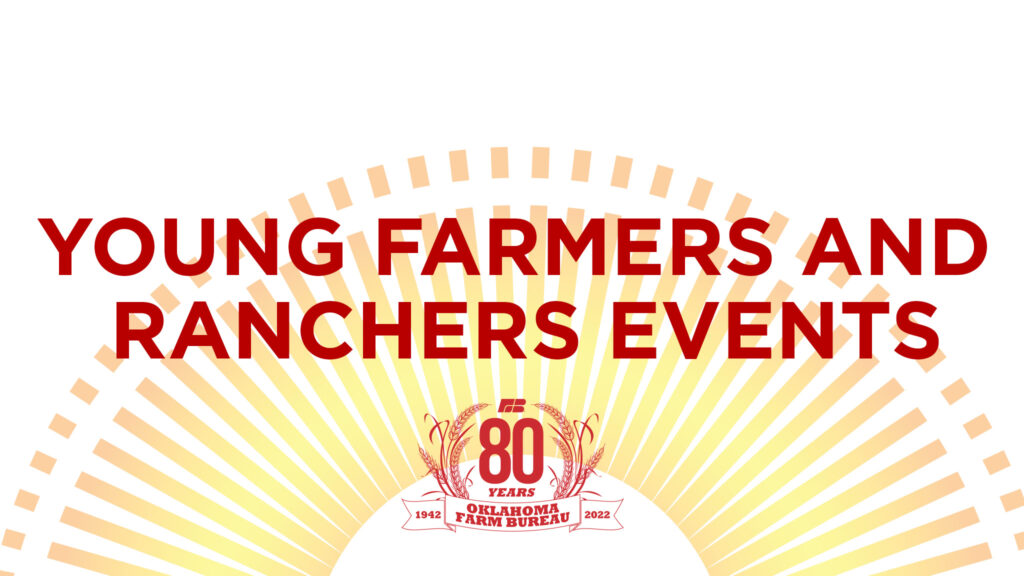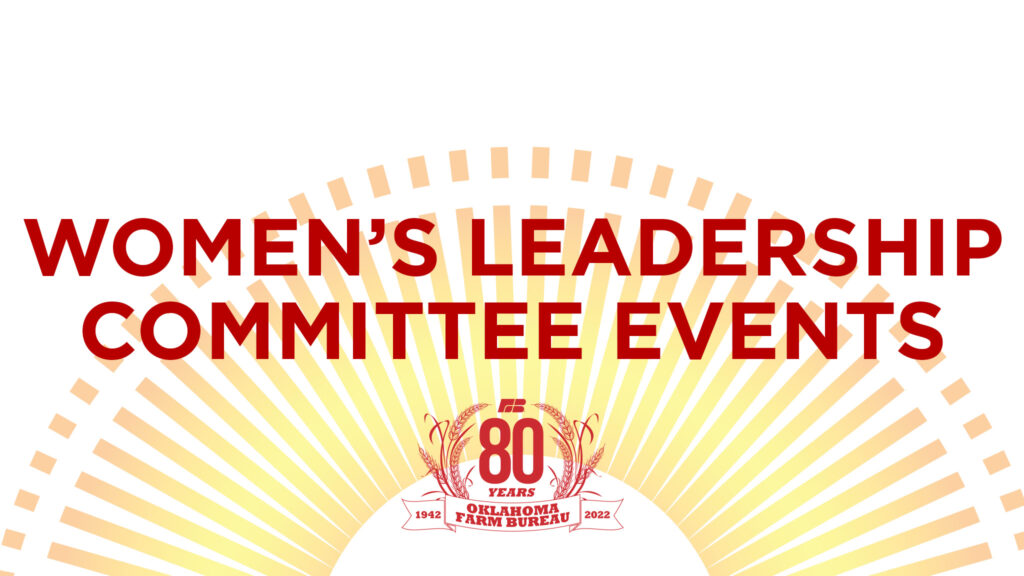 ---
OKFB Expo
In between breakout sessions, competitive events and general sessions, stop by and visit all of the vendors at the OKFB Expo.
Ag in the Classroom
Caldwell Real Estate
Candyholic Freeze Dried
Farm Credit of Western Oklahoma
Farmer Veteran Coalition
John Vance Fleet Services
Just Flexi-it with Jillian
LOREC Ranch Furniture
Makes Scents with Baylee
OKC Sole Brothers Shine Parlor
OKFB Field Services
OKFB Foundation for Agriculture Silent Auction
OKFB Safety Services
OKFB Store
OKFB Women's Leadership Committee
Oklahoma Beef Council
Oklahoma Wheat Commission
One Ivy Rose
P & K Equipment
Primary Vision Care Services
Sidwell Strategies
UpTerra
Valerie Naumann
---
Convention Schedule
Thursday, Nov. 10
5 p.m. High School Discussion Meet orientation
5:15 p.m. High School Discussion Meet round one
6 p.m. High School Discussion Meet round two
6:45 p.m. High School Discussion Meet finals
Friday, Nov. 11
8 a.m. Credentials committee breakfast
9 a.m. Registration, trade show and silent auction opens
9 a.m. YF&R Excellence in Agriculture Award presentations begin
9:30 a.m. YF&R Discussion Meet orientation
10 a.m. New county board member training
10 a.m. Micro-volunteering training
10 a.m. YF&R Discussion Meet round one
10:45 a.m. YF&R Discussion Meet round two
10:50 a.m. County Farm Bureau financial training
10:50 a.m. Strategic planning/county peer review training
11:30 a.m. YF&R Discussion Meet finals luncheon
11:30 a.m. County board member training luncheon
12:15 p.m. YF&R Discussion Meet finals
1:30 p.m. Opening general session
National Anthem – Kaylee Junghanns, FFA member
Speakers: Congressman Markwayne Mullin; Caleb Horne, Oklahoma FFA Northwest Area Vice President; and Joby Young, American Farm Bureau Executive Vice President
KC Shepard, Oklahoma Farm Report
OKFB Foundation for Agriculture report
3 p.m. AFBF Issues Advisory Committee Reports
Scott Neufeld, farm policy; Karen Dodson, budget and economy; Josh Anderson, environmental regulations; Jordan Cook, animal care; Cody Goodnight, technology; Chad Budy, energy; and Chad Selman; agricultural labor
3 p.m. Drones and Agriculture
Loren Sizelove
3 p.m. Women's Leadership Committee Business Meeting
4:30 p.m. YF&R Dinner and Caucus
7:30 p.m. OKFB reception and game night
Kyle Rainer Music
Saturday, Nov. 12
7:30 a.m. Credentials Committee breakfast
7:30 a.m. Financial Committee breakfast
7:30 a.m. Resolutions Committee breakfast
8:45 a.m. OKFBMIC policyholders meeting
9 a.m. Registration, trade show and silent auction opens
9:30 a.m. General session
Ron Hays, Oklahoma Farm Report
Speakers: Abby Logan, Oklahoma 4-H President
Credentials committee report
Election of AFBF delegates
Voting delegate session
11:30 a.m. WLC Program of Work luncheon
11:45 a.m. Credentials desk closes
12 p.m. Credentials Committee luncheon
1 p.m. OKFB district caucuses (districts 3, 6 and 9)
1 p.m. Silent auction closes – items may be picked up following the afternoon general session
1:30 p.m. Trade show closes
1:30 p.m. General session
Speakers: Kyndal Schlup, Oklahoma FCCLA First Vice President
Financial committee report
District caucus reports
WLC Incoming/Outgoing
YF&R Incoming/Outgoing
AFBF delegate announcement
OKFB Ag PAC report
Presidential address
OKFB Legal Foundation report
Voting delegate session
5 p.m. County presidents reception
5:30 p.m. OKFB Ag PAC reception
7 p.m. Dinner and awards program
8:30 p.m. Reception
Sunday, Nov. 13
7:30 a.m. County presidents coffee talk
7:30 a.m. WLC coffee talk
7:30 a.m. Public policy coffee talk
8:45 a.m. Worship service and group breakfast
LeAnn Hart
Updated Nov. 3