The U.S. Department of Agriculture's second round of coronavirus relief payments came at a critical time for Oklahoma wheat farmers, Payne County Farm Bureau member and third-generation farmer Carl Williams said in an interview with OETA's Oklahoma News Report on Friday, Oct. 2.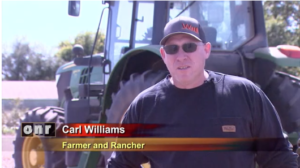 Williams, who farms and ranches near Coyle, was able to receive Coronavirus Food Assistance Program payments for his cattle production earlier this year. But the expanded CFAP program, which now provides eligibility for all classes of wheat, brings relief to Oklahoma wheat farmers who saw lower prices at harvest.
"The price of wheat at harvest this year was about a dollar less than it was in 2019, so that's a pretty significant decrease in revenue," Williams said. "It helped. Any time when the markets are down, any extra revenue sources are really needed."
The CFAP 2 payments, which are available through Dec. 11, 2020, come just as Oklahoma farmers begin putting seed in the ground for next year's wheat crop.
"The timing is pretty good now too because people are spending a lot of money on inputs, fertilizer, seed and fuel and what not right now," Williams said.
The relief program has helped keep Oklahoma family farmers and ranchers afloat as they continue working to feed, clothe and fuel the world.
"Our main goal right now is trying to keep as many of the farm operations as viable as possible for better days that lie ahead," said Rodd Moesel, Oklahoma Farm Bureau president.
Producers may apply for CFAP 2 payments now through Dec. 11, 2020 at county USDA Farm Service Agency offices. Learn more at farmers.gov/cfap.
Watch the full Oklahoma News Report story on the OETA website.