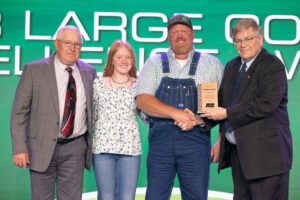 Oklahoma Farm Bureau presented the OKFB County Excellence Award to Comanche and Ottawa County Farm Bureaus on Saturday, Nov. 11 at the organization's 82nd annual meeting in Oklahoma City.
Modeled after the American Farm Bureau Federation's County Activities of Excellence Award, this award recognizes county Farm Bureaus with the most outstanding or unique local program, activity or event.
Comanche County Farm Bureau hosted the first-ever Ag Days event for more than 600 fifth-grade students from four urban school districts in Comanche County. An idea that stemmed from Comanche County Farm Bureau member Joshua Sullivan and his daughter Cora, Ag Days offered students the opportunity to learn more about agriculture through learning stations presented by local farmers and ranchers featuring livestock, crop production, farm equipment and more. The hands-on event was the largest agriculture demonstration for elementary students in a 50-mile radius of Comanche County.
"As agriculturalists, we uphold the highest standards for ourselves to be good stewards of the land," Sullivan said. "It is our job to cultivate and educate the public and younger generations why we do what we do and how their food gets to their tables."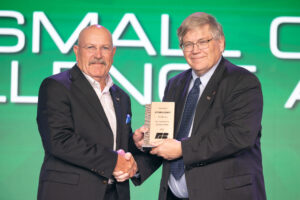 Ottawa County Farm Bureau hosted an Ag Experience Lunch for Leadership Miami, where several Ottawa County Farm Bureau leaders and members spoke with the Leadership Miami class about their operations. Class participants also had the opportunity to view and sit in tractors, combines and other equipment provided by Ottawa County Farm Bureau board member Greg Leonard.
"We are elated to receive this award," said Ottawa County Farm Bureau President Alisen Anderson. "It is something that we were able to really show that simple education can move mountains with legislators and with county officials, but also with business owners in counties that are not specific to agriculture."
The Oklahoma Farm Bureau Annual Meeting is the organization's largest gathering of farmers and ranchers every year. At the event, members vote on grassroots policy, elect leaders and award outstanding individuals. OKFB has a presence in all 77 Oklahoma counties and serves as the voice of agriculture and the rural way of life. To learn more, visit okfarmbureau.org.
---
Download a high-resolution photo of Comanche County Farm Bureau's 2023 County Excellence Award.
Download a high-resolution photo of Ottawa County Farm Bureau's 2023 County Excellence Award.