Custer County Farm Bureau officially broke ground on a new office building in Weatherford on Tuesday, Sept. 10.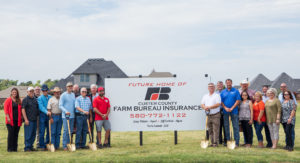 The new office, expected to be completed sometime toward the end of next year, will be located at 1402 N. Washington across from Weatherford High School. It will replace the current office located at 510 E. Main.
A larger space will provide the county Farm Bureau with increased opportunities to serve the community, Custer County Farm Bureau President Lawrence Sawatzky said.
"We just have a lot of opportunities to have more programs (for the community) in Weatherford," Sawatzky said. "We need to be able to provide members in our county more options and to expand and do better. My goal is to expand what we do in the county and in the community."
Custer County Farm Bureau serves its members and the community by advocating for farmers and ranchers throughout the county and state, hosting safety and educational programs, and providing insurance products and services.
Custer County Farm Bureau is one of 77 county Farm Bureaus that comprise the Oklahoma Farm Bureau, a grassroots farm organization with more than 80,000 members across the state. As the state's leading agricultural organization, Farm Bureau is committed to improving the lives of rural Oklahomans through advocacy, education and member benefits. To learn more, visit okfarmbureau.org.