Custer County Farm Bureau officially opened the doors of its new satellite office in Weatherford on July 29.
Now located at 1402 N. Washington, across the street from Weatherford High School, the new office will replace the old location at 510 E. Main.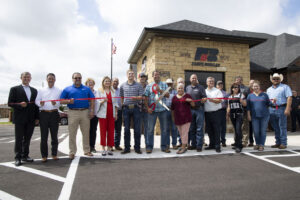 After breaking ground on the site Sept. 10, 2019, the Custer County Farm Bureau board members and insurance agents worked closely to create a space to better serve their members and the community. The new larger office space and parking lot features a designated board meeting room and covered outdoor area that can be used several ways, Custer County Farm Bureau President Lawrence Sawatzky said.
"We have always had an office here in Weatherford, but with this new building, we hope to better serve our community through a variety of ways including defensive driving courses and hosting county member events," Sawatzky said. "In the past, we have done great things, but I want to keep pushing us to do better for our members."
Custer County Farm Bureau serves its members and the community by advocating for farmers and ranchers throughout the county and state, hosting safety and educational programs, and providing insurance products and services.
Custer County Farm Bureau is one of 77 county Farm Bureaus that comprise the Oklahoma Farm Bureau, a grassroots farm organization with more than 70,000 members across the state. As the state's leading agricultural organization, Farm Bureau is committed to supporting the agriculture community to improve the lives of Oklahomans through advocacy, education and member benefits. To learn more, visit okfarmbureau.org or contact the Custer County Farm Bureau's Weatherford office at (580) 772-1122.