The Fall 2022 issue of Oklahoma Farm Bureau's Oklahoma Country magazine is now available online. The latest issue is also headed to Farm Bureau members' mailboxes around the state.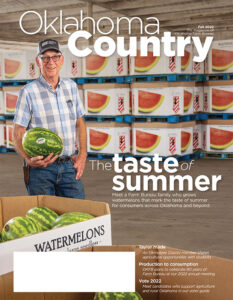 The latest issue of Oklahoma Country includes an updated design and re-worked content to better serve OKFB members and feature the organization's best content.
Our Fall 2022 issue features Triple S Farms near Hydro, where the Slagell family grows watermelons – along with many other crops – that are enjoyed by consumers around the country. We also feature Okmulgee County Farm Bureau member Tim Taylor, an agriculture education instructor who teaches non-traditional students to help them find a place in agriculture to learn and grow.
The magazine also features columns, the latest news and updates on OKFB events, a preview of our 2022 annual meeting and more.
The Fall 2022 issue is available on the Publications page of our website or at the bottom of this page, and the full content list is outlined below.
---
Featured stories
Meet the Slagell Family who run Triple S Farms near Hydro, Oklahoma, and learn about what it takes to grow watermelons – Oklahoma's state vegetable.
Okmulgee County Farm Bureau member and agricultural education teacher Tim Taylor helps students who do not have a traditional agriculture background – or any agriculture background at all – find a place for themselves to learn and grow.
Columns
OKFB President Rodd Moesel shares highlights from the organization's policy development process and looks forward to the action at OKFB's 2022 annual meeting Nov. 11-13.
OKFB Executive Director Thad Doye reviews the vast array of Farm Bureau events, activities and efforts throughout the past year.
A look at our redesigned Oklahoma Country magazine with OKFB Vice President of Communications and Public Relations Dustin Mielke.
Sections
Farm Bureau Advocacy
A lasting impact – OKFB's Ag PAC plays a grassroots role in elections
Vote 2022 – OKFB's voter guide for the 2022 midterm elections
Farm Bureau People
Tightening soil – Woodward County Farm Bureau member Eldon Merklin – like all Oklahoma agriculture producers – has battled drought throughout 2022
Meek serves on state broadband board – OKFB Treasurer Jim Meek brings rural perspectives to the Oklahoma Broadband Governing Board
Farm Bureau events
Production to consumption – A preview of OKFB's 2022 annual meeting Nov. 11-13 in Norman
OKFB hosts inaugural Youth Legislative Experience – 4-H and FFA members learned about the legislative process during a two-day event in July
OKFB hosts FFA Reporters Conference – Nearly 100 FFA members sharpened their communications skills during OKFB's second-annual event for chapter FFA reporters
OYLA 2022 wrap-up – OKFB hosts its annual Oklahoma Youth Leading Agriculture conference for 13 incoming high school seniors
Generation Bridge Summer Series events – Mid-career agriculturalists gathered for three summertime events to connect and grow in agriculture
YF&R Shotgun shoot raises more than $19,000 for foundation – The OKFB Young Farmers and Ranchers hosted their annual shotgun shoot fundraiser
Farm Bureau Outreach
County Farm Bureaus donate to community food programs – Nearly $15,000 was donated in local communities through OKFB's Community Food Assistance Matching Program
OKFB chosen for state business accelerator program – OKFB will serve as a program partner for rural business development by the state of Oklahoma.
WLC donates blankets to veterans – OKFB Women's Leadership Committee members craft and donate handmade blankets to the Norman Veterans Home
Membership Value
Giving together, growing together – OKFB members have three options to make a greater impact for agriculture through voluntary contributions and donations
Read about the wide variety of events and activities OKFB has held over the past few months.
Country Gardening
Making sense out of fertilizer labels – Understanding plant nutrients and how to ensure proper soil fertility in your lawn or garden
---
View the Fall 2022 issue of Oklahoma Country in your browser