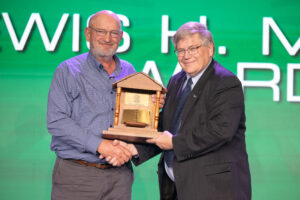 Garfield County Farm Bureau was honored with the Oklahoma Farm Bureau Lewis H. Munn Award on Saturday, Nov. 11 during the organization's 82nd annual meeting in Oklahoma City.
Also known as the Farm Bureau Builders Award, this award is presented each year to the county that conducts the strongest program in a chosen area. This year, the program area was county leadership development.
In an effort to reduce the occurrence of farming accidents involving young people, Garfield County hosted more than 50 students for a Farm Safety Day Camp to educate them about the importance of farm safety and the hazards that farmers and ranchers encounter every day. During the safety camp, participants learned best practices and safety measures using actual farming equipment.
"This award is a fantastic achievement based upon the hardworking people in our county, and not just the board members, but everybody who pitches in and does the hard work it takes to get things done," said Garfield County Farm Bureau President Joe Peeper. "We have a great board, and great people in the county, so it is really a thrill to achieve this award."
The Lewis H. Munn award is named after the second president of Oklahoma Farm Bureau, whose philosophy centered on building strong county programs.
The Oklahoma Farm Bureau Annual Meeting is the organization's largest gathering of farmers and ranchers every year. At the event, members vote on grassroots policy, elect leaders and award outstanding individuals. OKFB has a presence in all 77 Oklahoma counties and serves as the voice of agriculture and the rural way of life. To learn more, visit okfarmbureau.org.
---
Download a high-resolution photo of Garfield County Farm Bureau's Lewis H. Munn Award.