Kay County Farm Bureau recently sponsored a 24-page special section in the Ponca City Newspaper highlighting FFA, 4-H and ag youth activities throughout the county.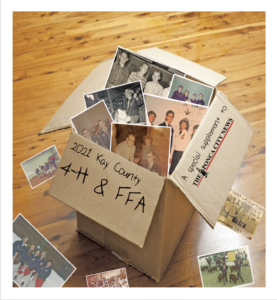 In an effort to showcase the importance of ag youth activities in the county, the special section featured the activities and accomplishments of current and former 4-H and FFA members in Blackwell, Newkirk, Ponca City and Tonkawa.
"The future of ag in our state looks bright with these strong upcoming leaders," said Stacy Simunek, Kay County Farm Bureau president. "I'm proud to support these organizations."
Kay County Farm Bureau, along with a variety of agriculture organizations and businesses across the county, came together to sponsor the section.
Darlene Engelking, who serves as Kay County Farm Bureau Women's Leadership Committee chair, played an instrumental role in curating the content for the newspaper.
"I was so excited to help with the Ponca City News 4-H and FFA special section," Engelking said. "I loved that we were able to highlight the current 4-H clubs and FFA chapters as well as featuring local alumni and the pictures submitted for the section. The agriculture community was so willing to submit their information to be included to make the first annual publication possible."
After the success of the publication, Engelking said the Ponca City News plans to include the section annually.
Read the special Kay County section in the Ponca City News here.