The Collegiate Farm Bureau chapter at Northeastern Oklahoma A&M College recently was awarded a mini-grant from the American Farm Bureau Federation.
The chapter received $500 to aid in recruitment, leadership development, community service outreach, officer development and the purchase of educational materials and/or registration costs for conferences.
"This mini grant from AFBF is a tremendous opportunity to show our students a wide variety of different commodities and enable us to still provide them agriculture opportunities in a COVID climate," said Alisen Anderson, NEO A&M Collegiate Farm Bureau adviser.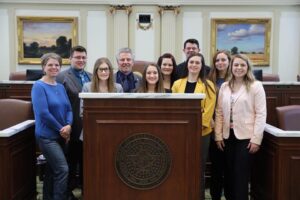 On the campus of NEO A&M in Miami, Anderson said the Collegiate Farm Bureau program offers students an opportunity to discover the diversity of the agriculture industry, develop leadership skills and give back to the community. The chapter hosts discussion meets on-campus, mini commodity tours throughout the year, as well as campus and community service projects.
Other Collegiate Farm Bureau chapters earning a grant included Colorado State University, North Dakota State University, Penn State University, The Ohio State University, University of Arkansas-Monticello, University of Georgia and University of Missouri.
The Collegiate Farm Bureau program is part of Oklahoma Farm Bureau's Young Farmers & Ranchers program and works to engage agricultural students from college campuses, introducing them to Farm Bureau. For more information, contact OKFB YF&R Coordinator Zac Swartz at (405) 523-2300.