Oklahoma Farm Bureau hosted more than 100 FFA members and advisors for a day of media training at OKFB's second-annual FFA Reporters Conference Monday, July 11 at the Sheraton Oklahoma City Downtown Hotel.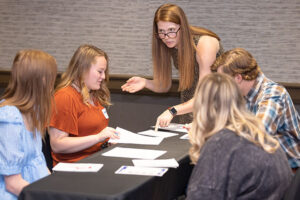 The event equipped FFA chapter reporters and presidents with ideas and skills to effectively communicate about their chapter's activities during the upcoming school year.
The workshops focused on writing, layout and design, photography, social media and messaging with special emphasis on sharing FFA members' activities. Students received real-world training and experience from faculty and graduate assistants from the Oklahoma State University Ferguson College of Agriculture Agricultural Education, Communications and Leadership department, along with staff from the Oklahoma Pork Council and OKFB.
"Communication is key to everything," said Josh Wilson, Stillwell FFA reporter. "Without communication, how can we get a message across? Taking what I learned today showed me that I can communicate well. If I do not communicate well or as I should in anything I do, then how can I thrive?"
A social media training session taught by Ruth Inman of Agorapulse was offered to FFA advisors to provide them with skills to help students manage their FFA chapters' social media platforms.
Oklahoma Secretary of Agriculture Blayne Arthur spoke to the group during lunch, encouraging FFA members to stay involved and engaged in Oklahoma agriculture throughout their education and into their careers.
A panel of Oklahoma agricultural leaders including OKFB Vice President Monte Tucker, OPC Executive Director Kylee Deniz and Oklahoma Beef Council Executive Director Heather Buckmaster provided a discussion about the need for accurate agricultural communication and consumer outreach.
Mary Peck with AgYouth Magazine and K.C. Sheperd of the Oklahoma Farm Report offered opportunities for students to share news and activities with their respective media outlets.
Oklahoma FFA state officers Emily Beaner and Presley Pullen were on-hand to greet the students and walk them through icebreaker activities.
Door prizes were awarded to Paige Burns of Washington FFA who won a smartphone lavalier microphone kit, Jenna Gore of Kellyville FFA who won a smartphone tripod kit, Tori Simmons of Bluejacket FFA who won a smartphone gimbal and Sierra South of Choctaw FFA who won a video ring light kit.