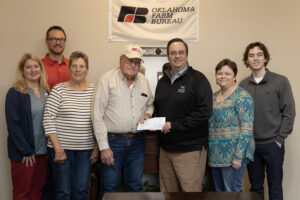 Oklahoma County Farm Bureau donated $5,000 to the Regional Food Bank of Oklahoma on Jan. 12.
The food bank distributes food and provides other resources to 53 counties in central and western Oklahoma through more than 1,300 partner agencies.
"For every dollar donated, we can turn that into four meals for an Oklahoman living with hunger," said Chan Klingensmith, RFBO development officer. "Annually, the food bank is able to donate over 50 million pounds of food. This is a high need state, especially with the economic conditions of inflation, lingering supply chain issues and other things. We have seen an uptick in need. We are here to help feed hungry Oklahomans."
Through Jan. 15, sponsors APMEX and the Cresap Family Foundation are matching donations up to $350,000 with their holiday matching program. Oklahoma County's donation will be matched and effectively total $10,000.
"As a farmer and rancher myself, we are trying to feed the world, and this is another way to give back," said Bob Bierschenk, Oklahoma County Farm Bureau president.
Visit the food bank's website at regionalfoodbank.org to learn how to donate today.