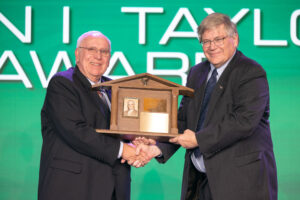 Okmulgee County Farm Bureau was presented with the 2023 Oklahoma Farm Bureau John I. Taylor Award on Saturday, Nov. 11 during the organization's annual meeting in Oklahoma City.
Named after OKFB's first president, the award serves as the organization's highest county honor, recognizing the county Farm Bureau with the most effective programs and activities.
Okmulgee County was honored for excelling in the program areas of public policy, service to members, public relations, membership, Women's Leadership Committee and Young Farmers and Ranchers Committee.
"To Okmulgee County, this award is a big deal," said Jim Meek, Okmulgee County Farm Bureau president. "This is our third time to win it in six years, and it is just as special to us tonight as it was the first time we won it."
Okmulgee County Farm Bureau was active throughout 2023, hosting a county-wide ag tour, partnering with the Morris Fire Department for fire safety events, supporting programs to assist women and children facing homelessness in Okmulgee County, visiting with lawmakers and more.
"This award reflects a lot of hard work by our members," Meek said. "It reflects community involvement, it reflects leadership, and it is just a good feeling knowing we have made a major difference in the agriculture community in Okmulgee County and that we are also laying the groundwork for a lot of the young people in the future to be successful in agriculture."
The Oklahoma Farm Bureau Annual Meeting is the organization's largest gathering of farmers and ranchers every year. At the event, members vote on grassroots policy, elect leaders and award outstanding individuals. OKFB has a presence in all 77 Oklahoma counties and serves as the voice of agriculture and the rural way of life. To learn more, visit okfarmbureau.org.
---
Download a high-resolution photo of Okmulgee County Farm Bureau's John I. Taylor Award.