Jake and Meggie Gibbs of Ottawa County and LC and Jaclyn Darling of Coal County were honored with the 2023 and 2024 Oklahoma Farm Bureau Young Farmers and Ranchers Excellence in Agriculture Awards, respectively, at the organization's 82nd annual meeting Nov. 10-12 in Oklahoma City.
The award is presented to young farmers and ranchers who do not derive a majority of their income from a farming or ranching operation for excellence in agriculture and Farm Bureau.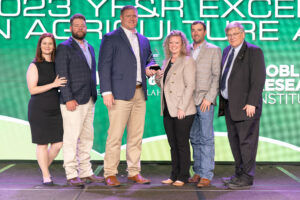 "We are so grateful for the opportunity to share our story," said Meggie Gibbs of receiving the 2023 award. "We have moved several times in our careers, so we have gotten to share the resources we had through USDA that we have used to improve our operation, and we are just so thankful for YF&R. My only regret is not joining sooner."
This year, OKFB named both the 2023 and 2024 award winners in an effort to better align the state-level competition cycle to American Farm Bureau's national competitions.
"We are so honored to receive the Excellence in Agriculture Award," said 2024 award winner Jaclyn Darling. "What we do as agriculturists is challenging work, and receiving this award makes the hard and long days all worth it. I remember my first county board meeting where the board members were encouraging us to get involved. They told us about the YF&R awards, and I remember thinking we didn't have a big enough operation to win, but we did it."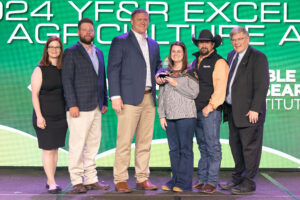 Each couple received a Polaris Sportsman 450 HO ATV, courtesy of Oklahoma Ag Credit and Farm Credit of Western Oklahoma. The Gibbs family earned a trip to the 2024 AFBF Annual Meeting in Salt Lake City, Utah, and the Darling Family earned a trip to the 2025 AFBF Annual Meeting in San Antonio, Texas, where the couples will compete for the AFBF Excellence in Agriculture Award.
The Oklahoma Farm Bureau Annual Meeting is the organization's largest gathering of farmers and ranchers every year. At the event, members vote on grassroots policy, elect leaders and award outstanding individuals. OKFB has a presence in all 77 Oklahoma counties and serves as the voice of agriculture and the rural way of life. To learn more, visit okfarmbureau.org.
---
Download a high-resolution photo of the 2023 OKFB YF&R Excellence in Agriculture winners, Jake and Meggie Gibbs.
Download a high-resolution photo of the 2024 OKFB YF&R Excellence in Agriculture winners, LC and Jaclyn Darling.