The Ottawa County Young Farmers and Ranchers Committee was honored with the 2023 Oklahoma Farm Bureau YF&R Charles L. Roff Award on Saturday, Nov. 11 during the organization's 82nd annual meeting in Oklahoma City.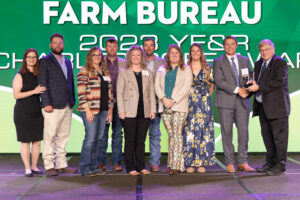 Presented to the state's top county YF&R committee, the Charles L. Roff Award encourages YF&R members to improve their local committees while strengthening the Farm Bureau organization.
"When we started our YF&R chapter a couple years ago, we just hoped to have a place where folks of similar age and industry who were going through similar things could come together and fellowship," said Dillon Johnson, Ottawa County YF&R committee chair. "Along the way, we started doing some programming and found that we could really be a service to the community through YF&R. Our membership keeps growing, and it's really just a testament to the dedication of the folks in our county YF&R that we've gotten this far."
The Ottawa County YF&R committee hosted a number of activities throughout 2023. Most notably was the first-ever Ottawa County Farm Bureau YF&R Pedal Tractor Pull, which was held as part of the Ottawa County Fair in August.
The YF&R committee planned and executed the event, which brought more than 30 participants to the inaugural competition. The committee worked with local businesses to obtain sponsorships and partnered with First Class Pedal Pulls of Inola to ensure the competition standards allowed participants to compete at the state contest and beyond. Proceeds from the event went to a local community crisis center in Ottawa County.
The county received a traveling plaque in recognition of their outstanding committee involvement.
The Oklahoma Farm Bureau Annual Meeting is the organization's largest gathering of farmers and ranchers every year. At the event, members vote on grassroots policy, elect leaders and award outstanding individuals. OKFB has a presence in all 77 Oklahoma counties and serves as the voice of agriculture and the rural way of life. To learn more, visit okfarmbureau.org.
---
Download a photo of Ottawa County Farm Bureau's Charles L. Roff Award.