As wildfires become a frequent yet unfortunate phenomenon for many states, especially in the West, a group of roughly 20 farmers, ranchers rural firefighters and truckers have rallied together to help.
---
In the blink of an eye, the sheer power of a wildfire has the ability to change a landscape as it whips across the land turning homes, barns and pastureland into little more than piles of charred remains and ash.
But after the flames are extinguished and everything becomes quiet and still, there is a transition from the visible loss and destruction to the intangible sense of healing for both the people and the land.
For Bernie Smith, a cattle producer near Gate, Oklahoma, and volunteer fire chief in Englewood, Kansas, he experienced the highs and lows emotionally during the March 2017 Starbuck fire that nearly destroyed his way of life.
Eventually known as the Northwest Oklahoma Complex of Fires, consisting of the Starbuck, Selman and 283 fires, a combined 830,000 acres were burned.
In response to the massive loss of grazing lands and hay supplies in the area, loads of hay, fencing and other necessities began arriving from across the country at Smith's home and the homes of other ranchers at all hours of the day and night, oftentimes without the chance to put a name and a face with the much-needed deliveries.
"We had a lot of help come in after the Starbuck fire – a lot of hay, a lot of fencing and people just came out and helped," Smith said, thinking back to the days immediately following the fire.
But even when farmers and ranchers seem to be at their breaking point following something so destructive, Smith will be the first to admit that it is not always easy to be on the receiving end of a donation, even when it is greatly needed.
"Everybody at some time or another needs a little help and there's nothing wrong with taking that help as long as you help others when it's your turn," Smith said, stating a philosophy he has come to share often with others.
Smith, his family and a few neighbors would get their chance to give back just a few months later when the Lodgepole Complex fire started near Jordan, Montana, eventually burning more than 270,000 acres.
Through their trip hauling a gooseneck trailer and a hay trailer filled with round bales, the idea to create Ashes to Ashes was born.
Comprised of a dedicated group of roughly 20 farmers, ranchers, rural firefighters and truckers, Ashes to Ashes focuses on providing much-needed hay to livestock producers following natural disasters such as damaging wildfires, devastating floods and severe drought.
"What we really try to push is giving hay," Smith said. "Fences are important, but you have to feed (livestock) or you aren't going to need those fences."
With a community of more than 6,000 followers on their Facebook page, every donation given to a rancher in need through Ashes to Ashes is made possible by multiple people. From those who offer monetary donations covering the cost of hotels and fuel, the truckers who donate their time and trucks, and the farmers and ranchers who donate the hay, each person plays a pivotal role.
"It is a lot of work to put the convoys together, but where there's a will there's a way," Smith said, grinning.
Having been personally affected by wildfires once before, Smith has a unique perspective and drive from within that sets him apart – pushing him to help others even as challenges arise during the coordination process. He knows the feeling of loss, but also the feeling of hope that comes with receiving even just a few bales of hay.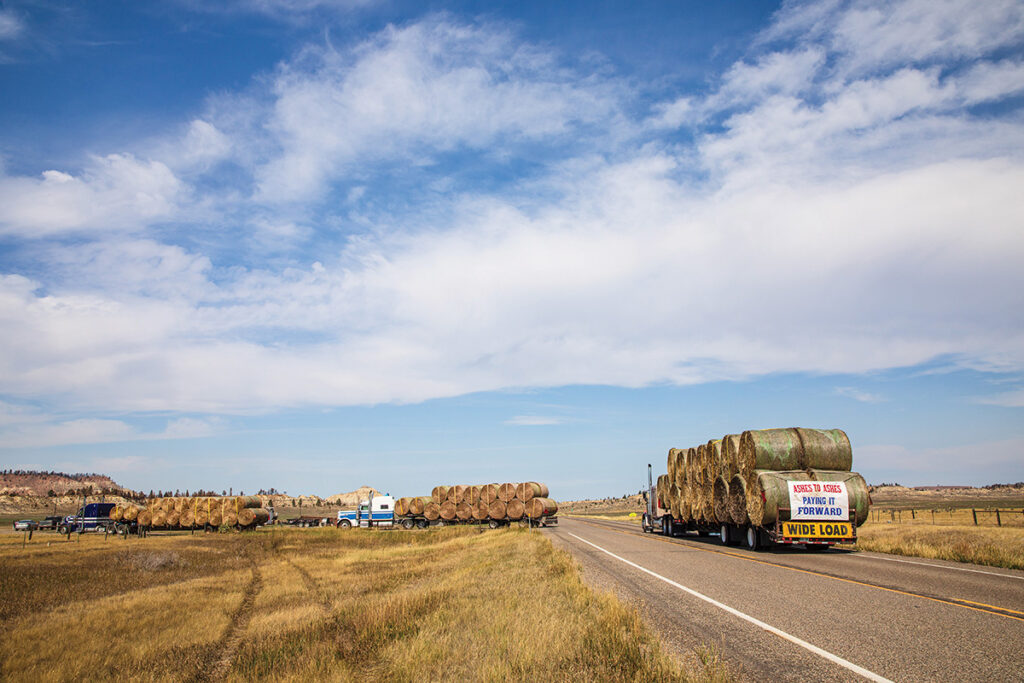 Those people are just like us, they're just in a different location. They've got their cattle, sheep and horses – and a lot of them live a long way from town. They're good people, they just had a bad run of luck and need someone to assure them it's all going to be OK.
– BERNIE SMITH
While the group typically coordinates deliveries to one natural disaster each year, 2021 presented its share of disasters to the country's agriculture community.
Nearly 900 miles away from Gate lies the small town of Lame Deer, Montana, where residents faced their own battle following a dry winter and spring.
Beginning in early August, the Richard Spring fire broke out close to the nearby town of Colstrip, making its way to Lame Deer and burning around 171,000 acres.
"I think overall there was just a lot of drought and little rain, so the hay crops were less than normal anyways and then in about July we started seeing fires popping up left and right," said Sheena Schiffer, a local rancher and member of the Rosebud County Cattlewomen's Association.
In the weeks leading up to the donation, Schiffer was in regular contact with Smith, serving as a local point of contact to help coordinate the hay deliveries. In addition, the Rosebud County Cattlewomen's Association generously made a donation to Ashes to Ashes to help cover costs associated with the trip.
Lame Deer also happens to be the place where fourth-generation cattle rancher Clint McRae continues to work the same southeast Montana ground his great-grandfather settled in the 1880s prior to Montana becoming a state. McRae received 15 round bales courtesy of Ashes to Ashes to help his family's ranch recover from the wildfires.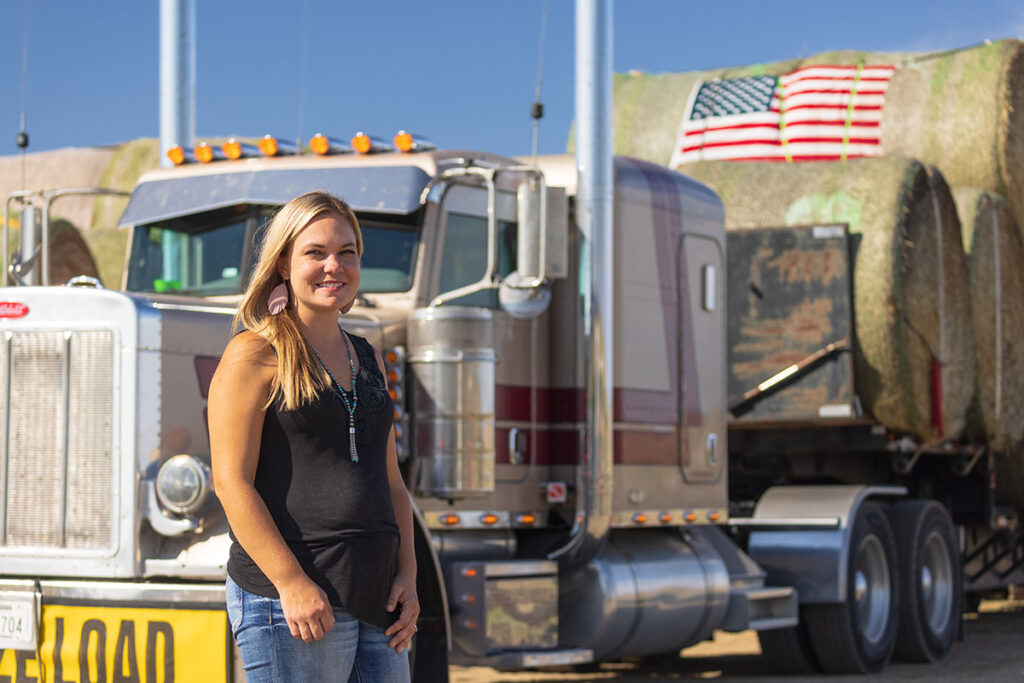 "We lost probably 98% of our grass, lost most of our fence and about 150 to 200 bales of carryover hay," McRae said. "In 24-hours we lost just about everything we have."
In an effort to keep their operation afloat, the McRae family made the gut-wrenching decision to sell off every cow older than three years old, keeping his yearling and two-year-old heifers to serve as the base to re-grow his herd in the coming years. Two years from now, McRae hopes to take the money he received from the sale of his older cows and replenish his herd.
"We've never had to do anything like this," McRae said. "There's no manual that you pull off the shelf and say, 'This is the situation, this is what you do with a fire.' With a tough winter or a drought situation, you have time to make a decision and know what to do. With the fire, we were out of grass in 24 hours."
McRae estimated that the 15 bales he received from Ashes to Ashes would last 15 days, more or less, for the remainder of his herd.
"We don't get through these things without neighborly help, and these neighbors of mine, we've been helping each other gather cattle, ship, process and that kind of thing, but I think our neighbor base just moved from here to Oklahoma and Kansas with this hay that was delivered.
"Hopefully, someday, if the people who came here today or somebody somewhere else has a tough time, maybe we can pay this forward," McRae said. "I'd certainly be willing to do that."
While photos may show patches of fresh grass beginning to emerge, the rain that came immediately following the fires brought its own set of challenges. Receiving roughly an inch of rain in just 30 minutes, it was too much, too fast for their dry soil. At the end of the storm, most of the topsoil was washed away and the much-needed rain did not soak in. Even so, McRae remains optimistic about hope for the future.
"This has been a challenge, but this is tough country," McRae said. "This area has thrown us wrenches before, and we'll survive it and we'll get through it. It's just going to take us a couple years."
In the four years since Ashes to Ashes made their inaugural trip to deliver relief supplies, the group has traveled thousands of miles, established friendships across the country and given hope to multiple ranchers from Montana to Oklahoma and from Nebraska to New Mexico.
"I mean, it started with a gooseneck load and a semi load of hay and it's grown to as many as 18 semi loads of hay," Smith said, looking back at how far the group has come in such a short time. "That takes a lot of giving by a lot of people, and I've never talked to someone who donated that was sad they did."
What Smith, his family and countless others experienced while battling the Starbuck fire forever shaped who they are.
"We've still got some cows with burn scars on them and so do the people," Smith said, looking out across his land. "You don't see them, but they have them."
But through that loss, hope has flourished, which they strive to provide to others when needed most. In the meantime, they will remain ready – ready to answer the next call to deliver that much-needed hope to a fellow rancher.
"We've all got to help each other to make the whole circle work," Smith said. "That's something that our fire didn't teach us, but reminded us. You have to lean on your neighbors and your friends. That's what we're doing with those people, we're just helping them out because someone helped us."