One Oklahoma Farm Bureau member works to ensure Greenleaf Nursery near Tahlequah and its employees can thrive into the future.
---
Nestled in the rolling hills along the Illinois River and Lake Tenkiller, rows and of nursery plants line the hillsides, their colorful blooms and blosssoms stretching far off into the distance. From shrubs to roses to trees and everything in between, Greenleaf Nursery Company has a history rooted in eastern Oklahoma.

With origins dating back to 1945, Greenleaf Nursery has become a nationally recognized company, but many Oklahomans are unaware of the incredible operation that was founded in Muskogee, Oklahoma, eventually moving a few miles down the road to Park Hill.
Now, with three locations — Park Hill, Oklahoma; El Campo, Texas; and Tarboro, North Carolina — the container plants grown at Greenleaf Nursery are sold to garden centers in numerous states east of the Rocky Mountains.
Just like the company, Randy Davis, Greenleaf Nursery President and Chief Executive Officer – and long-time Farm Bureau member – is deeply rooted in Oklahoma and is passionate about growing plants. His interest in caring for plants first started while in the vegetable garden growing up on his family's farm.
"In the garden, you take those little tomato seeds and plant them, then it grows into a big bush that creates all of the beautiful tomatoes," Davis said. "Or you can slice up a potato and plant it in the ground to get more potatoes. It is something that has always intrigued me, and that's where I fell in love with horticulture."
Davis grew up baling hay with his family during the summers, but decided he wanted to try something different at Greenleaf Nursery, owned by the Nickel family. At the time, the nursery spanned 50 acres, and he continued going back year after year as his love for the industry grew.
As high school graduation quickly approached, many of his supervisors at Greenleaf asked what his plans were for the fall. Davis' father was a superintendent at the local school, and because a university education was not affordable, his plan was to attend a local college and follow in his father's footsteps into education.
"They called me into the office one day and said, 'We are going to make you the recipient of the first Greenleaf scholarship, and we're going to pay your way through school,'" Davis said.
Even though he was granted a scholarship that allowed him to begin studying at Oklahoma State University's horticulture program, Davis was not required to return to Greenleaf after completing his degree.
"When I graduated, they hired me back," Davis said, smiling. "I liked what I did. I liked working here. I liked the people, so I always worked hard to make us successful. They recognized that."
The Nickel family cultivated a culture of recognizing people who had potential and helping them. Davis continues that tradition and provides scholarships to those in whom he sees potential, attempting to hire OSU graduates whenever possible.
While he may be an OSU supporter and fan, Davis feels the drive to help students pursuing a degree at any college or university. Providing many scholarships for students, Greenleaf also donated $1 million to build the Greenleaf Nursery Headhouse at the OSU Greenhouse Learning Center – a state-of-the-art greenhouse facility at the Stillwater campus.
Beginning his career at Greenleaf in the propagation hoop houses, Davis grew nearly all the plants on the property from cuttings. Carefully taking a small cutting from a plant with leaves, such as a rose bush, and placing it in soil a whole new plant would grow.
While some nurseries use hydroponics to start plant cuttings, Greenleaf Nursery prefers to start their plants in a ground pine bark and sand mixture, allowing them to develop into high-quality landscape and ornamental plants that are sold to customers around the United States.
Throughout each plant's time tucked in the hills of eastern Oklahoma, the ground pine bark and sand mixture will change ratios as the plant's needs change as they grow.
Nutrient needs are also considered for each plant throughout its lifecycle, and nutrient packets are added as needed. Focusing on nitrogen, phosphorus and potassium, Greenleaf works to ensure each and every plant is receiving the proper macro- and micro-nutrients.
With spring being the busiest season, colorful blooms can be seen as far as the eye can see. From red to blue and from yellow to purple, the colorful flowers, trees and shrubs soon will be in consumers' yards.
Employees pull the plants from the field and take them to the loading area to be prepared for transportation. Each semi trailer will be packed full of flowers, trees and shrubs from floor to ceiling and from the front to the back.
"To drive through the shipping area, you would have to be careful not to get run over because there are so many people and vehicles," Davis said.
On any given day in the spring, more than 20 to 30 semi trailers are loaded on the grounds daily with a wide range of species and varieties of plants. Greenleaf continues to expand its reach as they ship plants across Oklahoma and the Midwest.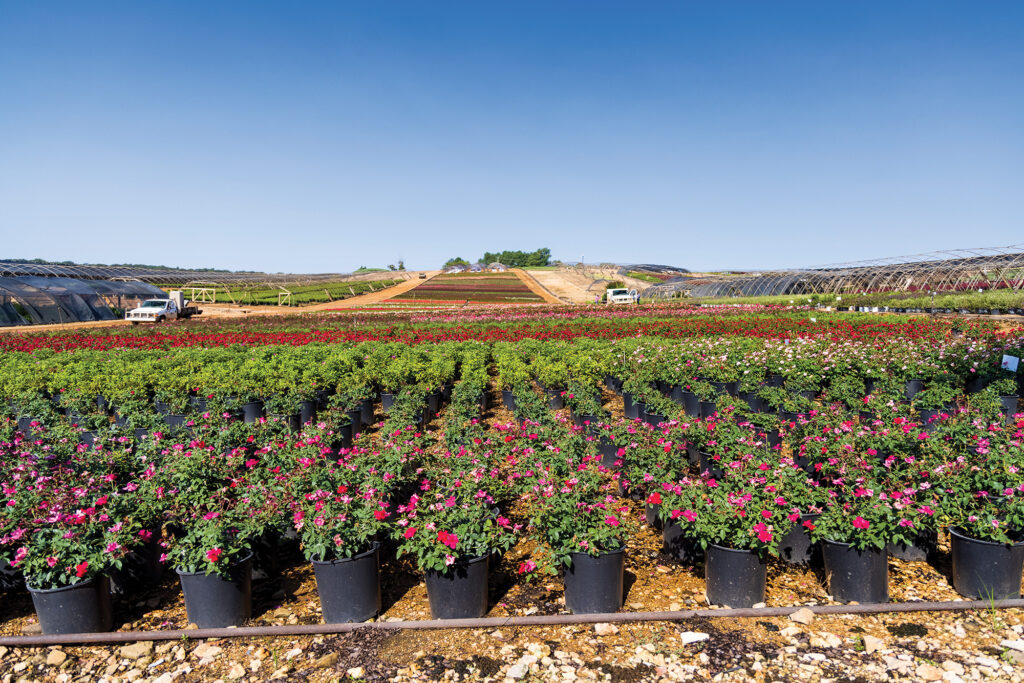 After the bulk of the plants are shipped out, the summer months are spent maintaining the remaining plants from watering to weeding to shearing and everything in between. Field scouts spend the summer carefully inspecting the plants for pests and diseases, ensuring plants are treated properly before being shipped.
Weaving in and out of the rows, workers tend to their duties as the sprinklers around them provide water.
Fall plants, such as chrysanthemums, are shipped out to gardens centers before the season changes. Like the spring, the fall brings more work than summer and winter.
In recent years, Oklahoma has faced its fair share of winter storms, so Greenleaf must prepare for the cold season to ensure plants are not lost.
Greenleaf Nursery focuses conservation and protecting the environment by using recycled plastic year after year. Using the clear, recycled plastic to cover the hoop houses in the winter, the material rests on the metal framework of the houses and allows the plants to grow while providing protection from the frigid temperatures during the shorter days.
Trapping the heat from the sun as it warms the ground, the hoop houses help prevent frost bite stress on the young plants. As some winter days can get unseasonably warm, workers will often cut vents in the plastic to let cooler air in the houses, as needed.
With 600 acres to cover with plastic in the winter, it is a huge undertaking for the workers to protect all of the plants on the property.
Winter, like summer, is spent maintaining the plants through watering and weeding in preparation for the spring season to pick back up.
No matter the season, Greenleaf has to ensure each plant receives the proper amount of water.
A series of canals collect water runoff as the plants are watered. Seven reservoirs are tucked into the valleys or runoff points across the property, holding the excess water.
At each reservoir, water is tested for pesticides and other impurities before use. Underground pipes stretching between each reservoir and across the nursery pump used water to sprinklers that saturate the plants' soil.
Taking care of the land, water and soil is something Greenleaf Nursery prides themselves on, as they produce high quality plants.
"We work to make growing plants fool-proof for the final consumer," Davis said.
Nurturing Davis in his early career — just like the plants grown on the property — the Nickel family saw something in Davis and appointed him president more than 20 years ago after spending time out among the nursery in many different positions.
With more than 1,000 employees today, Greenleaf Nursery aims to hire people from the surrounding area to help produce a wide array of decorative and useful plants.
"Most of the people who work here grew up here," Davis said. "So, we feel an obligation and are proud to help people out in this area."
The company offers a competitive wage for their employees, and they make sure workers have opportunities to grow in their positions.
"We have a lot of people who have been here 20, 30 or even 40 years," Davis said. "So we have a lot of tribal knowledge, and that is really important to us. We do treat our people really good, so they do stay with us and keep that knowledge here with us."
Greenleaf Nursery has employees working across the nursery growing the plants, but there are also people working in areas including finance, logistics and maintenance.
The Nickel family created the framework of the company, including investing in their employees. Davis continues to do the same today to ensure Greenleaf Nursery can thrive long into the future.