By Hannah Davis • Photos by Dustin Mielke
Facing tough times in agriculture, five Oklahoma farmers learn to cope with the stress by leaning on their faith, their friends and their families.
Farmers have always been known as a tough and resilient people. And for good reason. Many in Oklahoma come from a long line of pioneers who toiled long and hard to tame a rough and rugged prairie. Facing whipping winds, extreme droughts, dangerous tornadoes, destructive hail storms and harsh conditions, farmers have always faced challenges and uncertainty.
When times get tough, they put their head down and slug away. But what happens when the stress of their way of life begins to become too much to bear?
Today, farmers day after day battle against ever-increasing input costs, plunging commodity prices, unpredictable trade disputes and devastating natural disasters.
Across the country, farmers are facing record-high debt that has grown by nearly 40% over the past seven years, according to the American Farm Bureau Federation. And the number of farm loans that are at least 30 days past due is at its highest this year since 2012. In Oklahoma, the number of farm bankruptcies more than doubled over the last year.
Coupled with the responsibility of carrying on their family's generations-long legacy of farming, the stress can quickly take its toll on the will of the farmer.
Often, all of that stress is dealt with silently. Farmers are supposed to be tough; it's in their blood. If generations before them endured just as much if not worse, why should they complain? Instead, they bury the stress, the pain and the fears.
But at a small table in a local café in north central Oklahoma, five area farmers find a place of solace in each other over coffee and breakfast once a week.
Yes, farmers have been meeting at the local diner or co-op over coffee for decades. It is not a new thing. But this is different.
It is a community built on a bond of trust, where it is OK to be vulnerable and share their deepest burdens.
Around two years ago, Tom Cannon and Joseph Tripp – both farmers in the Blackwell area – found themselves at a local basketball game. Already friends, they discussed their operations and the plethora of struggles they had been facing as they watched the game.
"Tom and I are in this gym and we look around and we don't have anything in common with anyone else," Joseph said.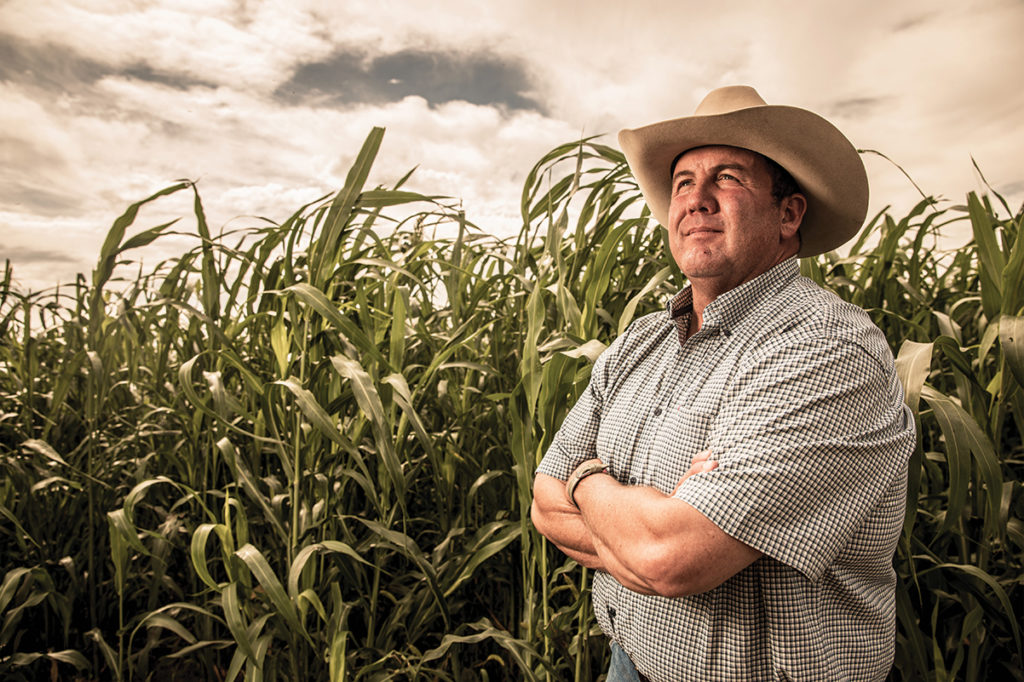 In the midst of a multitude of trials on the farm, Tom and Joseph both walked away from the conversation that evening feeling a bit of the burden lifted.
"It was amazing how much it helped me just that day," Tom said.
The conversation sparked an idea in the two farmers. Why not get a group of producers together to meet and talk?
Originally, the plan was to talk about business. They invited a local crop consultant, Bryan Vincent, and Red Rock area farmers Marty Williams and Gary Williams. The group they created consisted of self-proclaimed progressive farmers who are always looking to implement new production practices in a profitable manner.
But the purpose of the group quickly evolved into something much more.
"I know Tom and Joe came into it thinking it was going to be helping us to make business decisions, bounce ideas off each other," Marty said. "I went up there needing therapy."
The group began meeting once a week over eggs, bacon and toast at Mary's Grill in downtown Tonkawa. From reading scripture and praying over one another to sharing pictures of their kids or venting about their latest frustrations on the farm, the group has become a safe place for each man to reveal his greatest victories and his darkest struggles.
"It's way past farming," Bryan said. "It's a chance to meet with like-minded people. It's a chance for us to let some things out. We laugh, we may cry together, we may be disgusted together. We share our emotions, whether good, bad."
But admittedly, it's not easy for farmers to share their struggles.
"The mentality is just shut up and work harder, it'll be all right," Marty said.
"Because of that independent nature of who our ancestors were, I mean these were mostly land run people – fiercely independent, tougher than a boot," Tom said. "I hear stories of my great-grandparents and my grandparents and how tough they were and the hard times they went through, and I think what I'm going through isn't hard."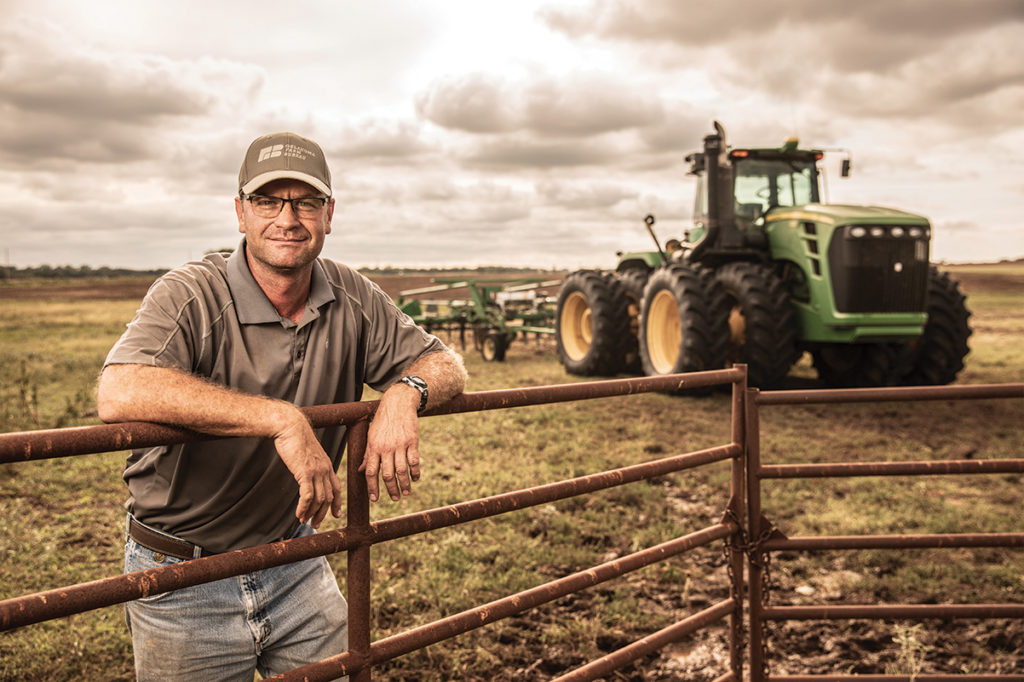 Most of the farmers in the group were skeptical at first.
"When I first got invited, I thought, 'Yeah, we're going to sit around and cry on each other's shoulders? And this is going to be an hour and a half once a week when I could be doing something else?'" Gary said.
Yet after meeting time and time again, the men began to recognize that their pain and their trials were real and that they were not alone in them.
"As it went on there for about a year, it got a little deeper, maybe a little darker," Gary said. "Everybody kind of started opening up and I think that's good. Because you can't keep all that bottled up."
Much of the stress producers face comes from the day-to-day management decisions they are each forced to make.
"Our ancestors worked hard physically and their pain was felt," Joseph said. "This deal's all management and mental."
Though many producers across the country have just now began to feel the effects of the struggling farm economy, Oklahoma farmers have been dealing with it for years.
When commodity prices were at record highs in the early 2010s, Oklahoma farmers grappled with a devastating drought that prevented them from reaping the benefits.
"In other states, they're not worried about managing a whole lot of risk because they can raise crops consistently," Marty said. "Here we can't. It's so risky with the weather and what Mother Nature throws at us here in Oklahoma. So it's really hard to manage any risk."
While production costs such as rent, seed, fertilizer and fuel have skyrocketed, commodity prices have remained at levels similar to decades ago.
"Right now, with our cost of production, you can't have a hiccup," Marty said. "If you have one little weather hiccup, there's no room for error anymore."
Because production agriculture is a capital-intensive business, farmers are required to borrow money to operate – and to make a living.
"You keep a line of credit and pretty soon that sucker's full, so you have no more to borrow from it," Marty said. "Well, we have no other income to pay for our family either. So you borrow that money to raise the family, but you have to be careful.
"And then, all of a sudden there is no money and you don't know what to do. So you borrow a little more. Then it doesn't rain and all your crops die and you have nothing to put back to pay that loan back. So it's kind of a vicious cycle."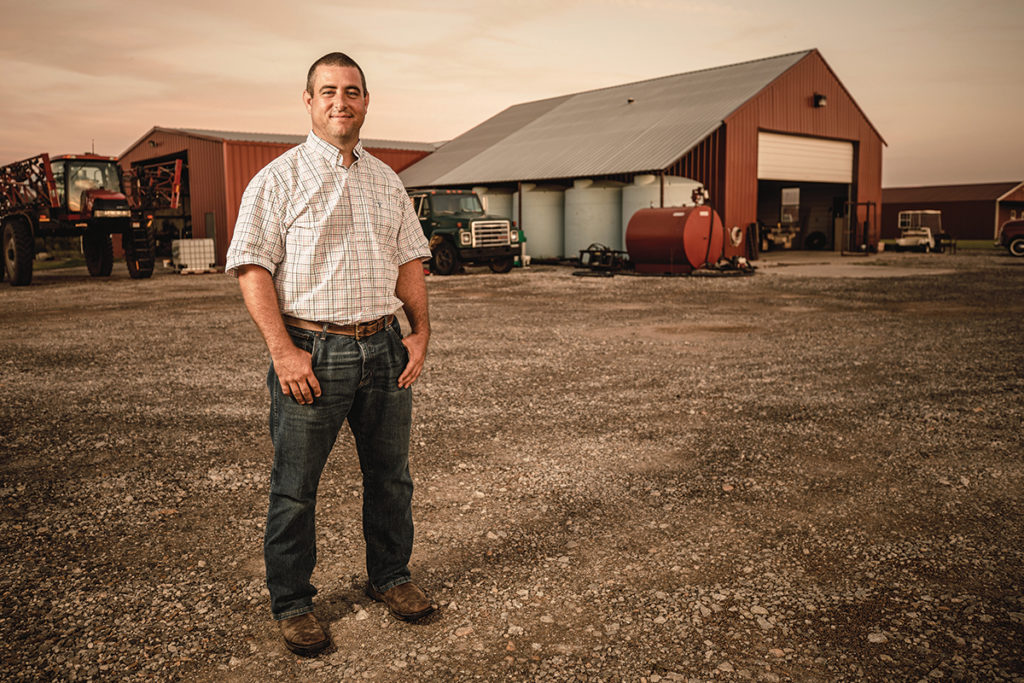 In some cases, farmers have lost decades worth of work in a matter of three or four bad years.
"In recent years, probably the last four or five years, the cash flow situation has been pretty dire," Gary said. "I'm burning a lot of equity that was built up over the last 20 years just to stay afloat through this deal. There's an end point eventually where you don't have any equity left to keep going."
Despite doing their best to manage risk and make good business decisions, many of the difficulties producers are facing are unable to be prevented.
"It seems like the stresses come at us in so many different ways, so many different angles," Joseph said. "I'm just in a situation right now where I can't hardly make anything work on paper.
"I told a guy last night I feel like I'd be better off if I just went and sat at the coffee shop all winter. That's sad to say, but I might lose less money. That's kind of the feeling you get after you've been whipped around. We're demoralized a little bit."
When things go wrong on the farm, it is not just a bad day and it is not only losing money. It hits at the core of who they are as farmers.
"I had three great-grandparents that all made the (land) run," Bryan said. "They were all dedicated to the farm. And it's what we are. It's who we are."
Though they admit that it shouldn't, the ability to plant a seed in the ground, nurture and care for it for months and witness it produce a crop often gives their lives meaning and purpose.
"That's what our identity often is placed in – how much we can produce," Tom said.
As the third, fourth or fifth generation on their family's farm, the pressure of maintaining the farm that their ancestors built and tended for decades weighs heavy.
"It's not so much the money," Joseph said. "For me, I'm the fourth generation. I grew up on a tractor wondering if I was going to be the generation that was going to lose the family farm."
Fewer and fewer people involved in agricultural production can also lend to a sense of isolation for farmers.
"I can sit in a Walmart parking lot or be anywhere, and I can just feel the disconnect as I interact with people," Joseph said. "And that is huge. A lot of that disconnect is a portion of the root cause of our stresses."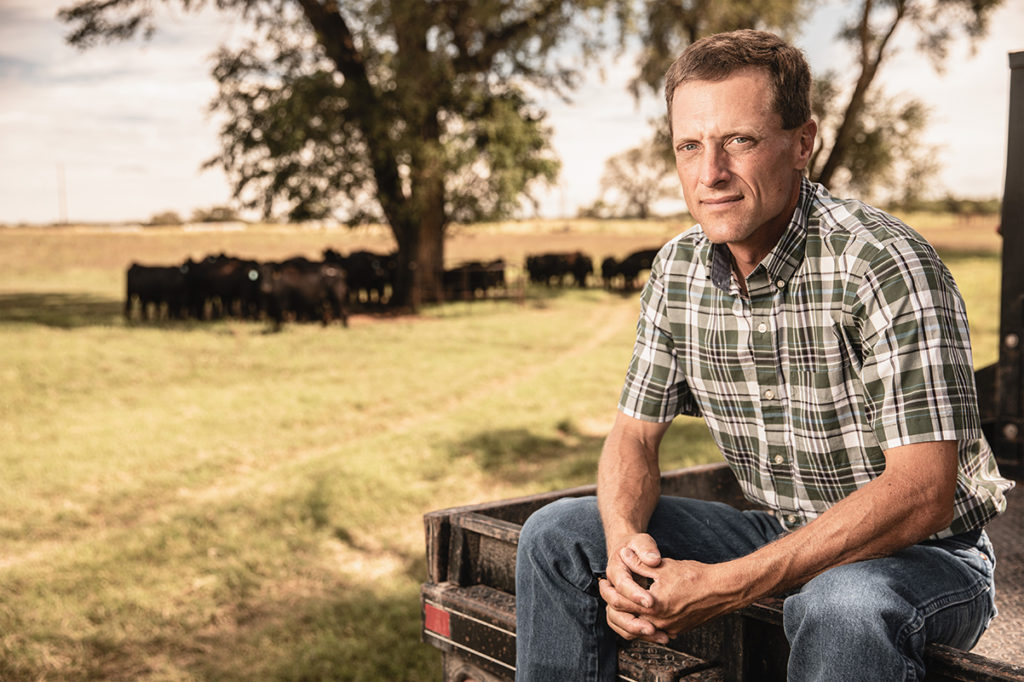 Decades ago, when more of the population was still living on the land, farmers were able to feel a stronger sense of community with one another.
"Used to, everybody did get together and they would have a once-a-month card party or a dance or whatever it might be. There was more of a sense of community back then," Gary said. "But since there's so few of us out here and we're all going different directions, there's just not that sense of community that there was 50 years ago. And that makes it even tougher."
Sometimes it is difficult to speak even with close family members about their struggles, simply because it is hard to convey the weight of all the challenges to someone who is not in the middle of it.
"I get pretty upset about some stuff and they (the group) are the only people that understand," Joseph said. "Some of this stuff I talk about my wife doesn't even understand."
"Yes I could talk to my wife, but I got tired of that," Marty said. "I wanted to talk to some guys about what they had gone through, so it was neat and really helpful."
And that's part of what makes this group so unique.
"Those guys are in it with me," Joseph said. "We are kind of in a battle and the only people that truly realize what's really happening on the frontline are those that are in the foxhole with you. And those guys are in the foxhole with me as far as farming goes, so they truly understand what I'm dealing with from day to day."
Week by week and struggle by struggle, these men rise up and support one another in their greatest times of need.
"I don't know what it would have been like not meeting with them," Marty said. "There was one time this year that I sent out a text, 'Guys, I need to meet with you.' It was just an emotional thing for me. I needed to meet with them. I don't even remember what we talked about but I just wanted to be there."
They've developed an unbreakable bond through which they can help each other face any struggle or challenge that arises.
"You know, we mimic Christ's relationship in our relationship with others," Tom said. "Having that relationship with those men has been huge. Huge. Like-minded men facing the exact same struggles that I am, in the same environment, in the same area."
Each of these men has fought varying degrees of depression and mental health illnesses. For them, the key has been relying on their faiths, their families and their friends.
"Everybody has (stress), and it's nothing to be ashamed of," Tom said. "You've got to put light on it. Don't stay alone and in the dark. Put light on it. Expose it for what it is and get some help.
"The first place I'd look for it is your neighbor that you trust or a friend that you trust. You've got to talk it out."
People are not meant to go through life alone – in good times or in bad times. Gathering and talking with trusted friends or family can often help lift some of the heavy burden.
"I would encourage anybody – any group of farmers, friends, whatever – to form a group," Gary said. "Even if it's a poker night on Friday night and you sit around and drink a few cool ones or whatever and just blow off some steam and talk. Not just in bad times, I think you should do that regardless, even in good times. Share your victories and triumphs with one another, support one another."
After leaning on each other to get through various trials, the men now recognize the need – and feel equipped – to reach out to friends and neighbors, too.
"For me, I've come to a point where the farming stuff doesn't matter as much as it used to," Marty said. "I worry about these guys. I come just to see how they're doing."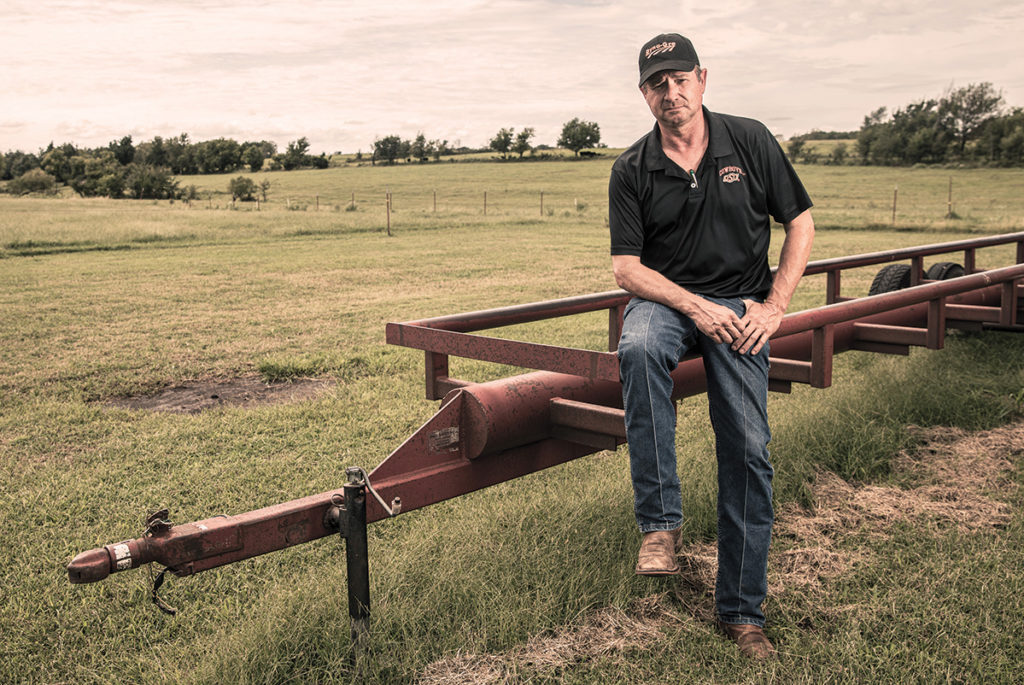 A phone call, text or even a visit to a fellow farmer can make all the difference.
"I don't know really how to do anything but just be there for each other," Joseph said. "I wish I could think of some way to relax the stresses we deal with, but the society that we're in and the financial situation we're in, we've just got to get through this the best that we can."
It is not enough to wait on a fellow farmer to ask for help.
"Mental health is serious," Bryan said. "It can be overcome, but it takes more than just one. You can't do it yourself. It takes help. Dadgummit, a farmer's independent. He won't ask for it.
"Don't let your neighbors and your friends become a hermit. If you don't see a guy coming around, he doesn't speak, he quits waving, sometimes just look over the fence. Just be aware of what's going on."
United by a strong faith, each of the men leans upon their belief that ultimately they are not in control.
"The way I look at it, if God doesn't want me to do this, it's not going to happen," Joseph said. "I pretty much just leave it up to Him."
"I pray about it and trust the Lord is going to provide," Marty said. "If He takes it all, He takes it all. It's not mine."
Though the past handful of years have tested the patience, will and grit of these men, they're not giving up. If anything, they've discovered what is most important to them.
"Maybe it's good for all of us," Joseph said. "Maybe it's just a painful experience that is going to force us to put things in perspective. Farming doesn't have to be as important as we make it. It's somewhat our identity, but it's not what God wants."
The tough times have caused each of the members of the group to evaluate what they truly value most in their lives.
"Going through these rough times, I can see what really matters," Marty said. "And what really matters is that I'm a good man of character, I'm loyal to my friends and family, I try hard. I want to keep that integrity – that's important to me. I want to be a man of faith, praise God, and really everything else will fall into place. And if it doesn't, it's OK."Image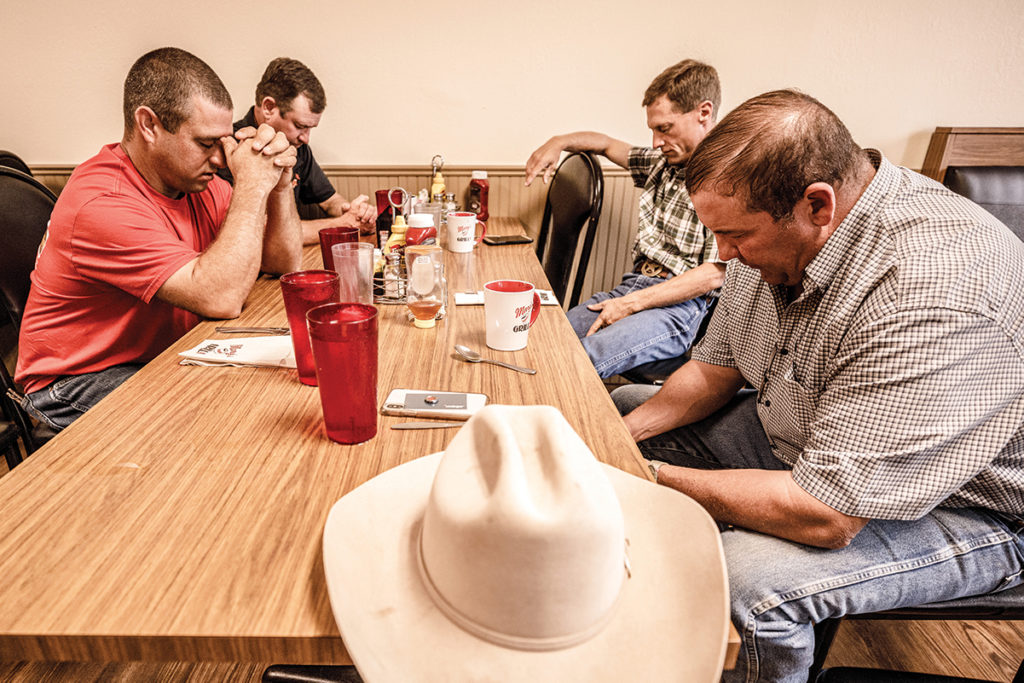 Learn more about the realities facing farm country on our Real Farm Talk page.