Oklahoma Farm Bureau is excited to return to a traditional in-person convention after hosting an online meeting last year Nov. 5-7 at the Embassy Suites Hotel and Conference Center in Norman.
Join fellow alongside fellow farmers and ranchers to celebrate Farm Bureau achievements, elect OKFB leaders, set policy for the next year, fellowship with friends from around the state and more.
Below find convention highlights and a detailed agenda.

2021 OKFB Award Winners
Each year, we celebrate our Farm Bureau members and counties who go above and beyond in promoting and elevating our organization and agriculture.

Top news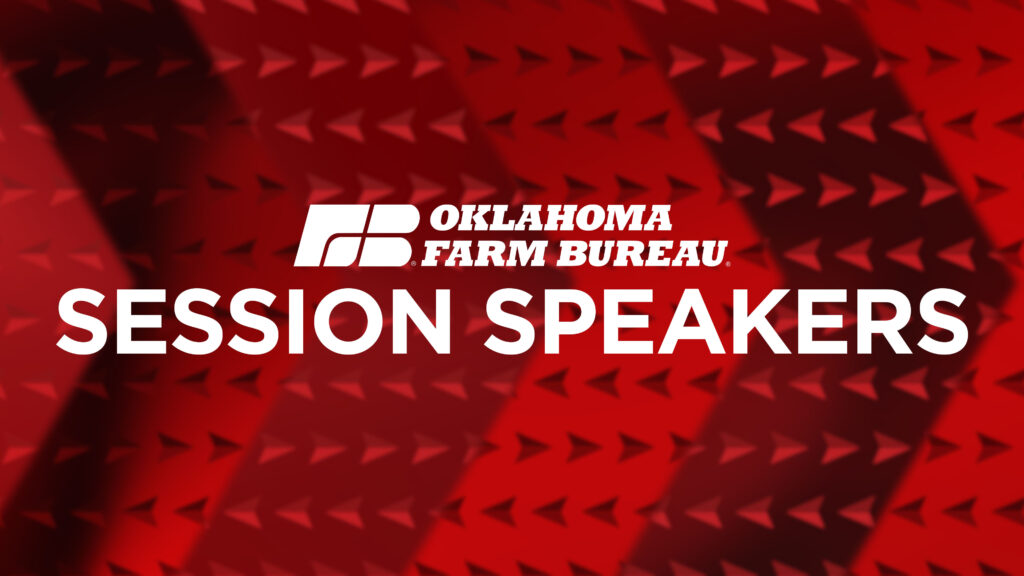 Session Speakers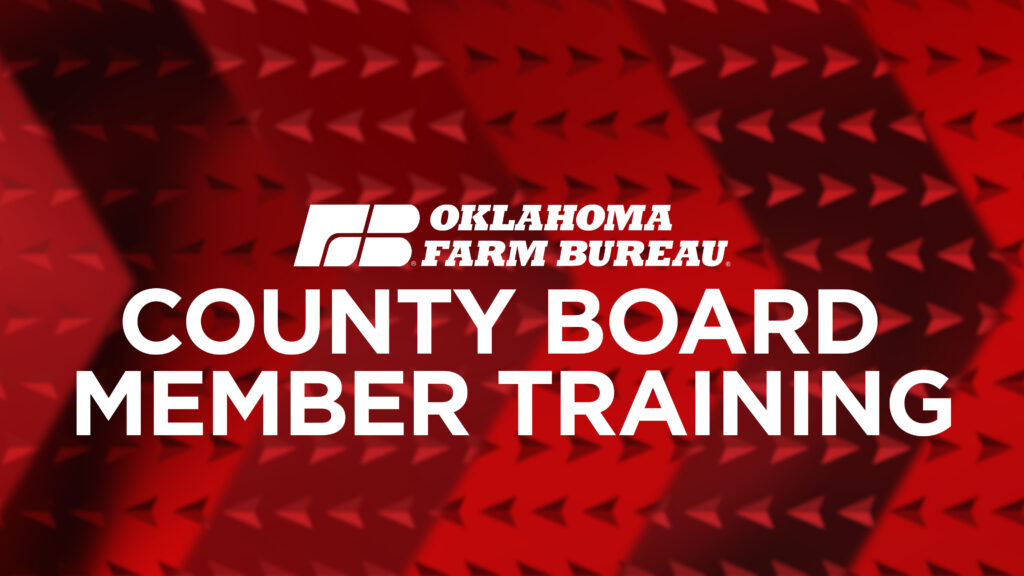 County Board Member Training
Young Farmers and Ranchers Competitive Events
Private Pesticide Applicators Continuing Education Session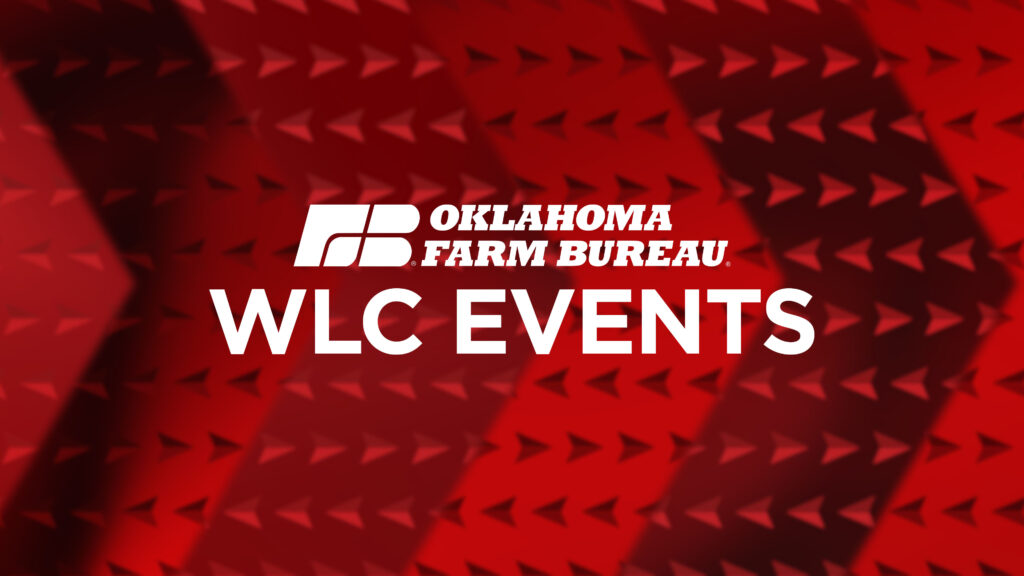 Women's Leadership Committee Events

Schedule
Thursday, Nov. 4
12 p.m. County administrator luncheon
1 p.m. County administrator breakout sessions
5 p.m. High school discussion meet orientation
5:15 p.m. High school discussion meet – Round 1
6 p.m. High school discussion meet – Round 2
6:45 p.m. High school discussion meet – Finals
Friday, Nov. 5
8 a.m. Credentials Committee Breakfast
8 a.m. County administrator breakfast
9 a.m. Registration opens
9 a.m. Silent Auction benefitting OKFB Foundation for Agriculture opens
9 a.m. OKFB trade show opens
9 a.m. County administrator meeting
9 a.m. YF&R Excellence in Agriculture Award interviews
9:30 a.m. Discussion Meet orientation
10 a.m. County board member training
Speaker: Elise Cruse, AFBF Managing Director, Leadership Development
10 a.m. YF&R Discussion Meet – Round 1
10:45 a.m. YF&R Discussion Meet – Round 2
11:15 a.m. State Board Meeting and Luncheon
11:30 a.m. YF&R Discussion Meet Finals Luncheon
12 p.m. County board member training luncheon
12 p.m. County administrator luncheon
12:15 p.m. YF&R Discussion Meet Finals
1:30 p.m. Opening session
National Anthem – Kamryn Oakes, FFA member
Speakers: Gov. Kevin Stitt; John O'Connor, Attorney General, State of Oklahoma; and Dr. Kayse Shrum, President, Oklahoma State University
District County Administrator of the Year Award presentation
3 p.m. Break
3 p.m. Private pesticide applicators continuing education unit session
Speakers: Dr. Todd Baughman, Oklahoma State University professor and weed scientist; Dr. John Long, Oklahoma State University associate professor and Oklahoma extension ag engineer; and Misha Manuchehri, Oklahoma State University assistant professor and Oklahoma extension weed scientist
3 p.m. "Your Money, Your Retirement" breakout session
Kara Goodknight
3 p.m. Women's Leadership Committee conference
5 p.m. Registration closes
5:30 p.m. YF&R dinner and caucus
5:30 p.m. OKFB trade show closes
7:30 p.m. OKFB Reception and Game Night
Bushels for Books presentation
8 p.m. Silent Auction closes
Saturday, Nov. 6
7:30 a.m. Credentials Committee Breakfast
7:30 a.m. Financial Committee Breakfast
7:30 a.m. Resolutions Committee Breakfast
8:45 a.m. OFBMIC policyholders meeting
9 a.m. Registration opens
9 a.m. Silent Auction benefitting OKFB Foundation for Agriculture opens
9 a.m. OKFB trade show opens
9:30 a.m. General session
Ron Hays, Oklahoma Farm Report
Speaker: Elizabeth Chambers, Oklahoma 4-H president
Credentials report
Election of AFBF delegates
OKFB Legal Foundation Update
Resolution session
12 p.m. Credentials Committee luncheon
12:15 p.m. WLC Program of Work luncheon
1 p.m. OKFB District caucuses
District 2
District 5
District 8
1:30 p.m. General session
Speaker: Braden Burns, Oklahoma FFA secretary
Minutes
Financial Review Committee Report
District Caucus Reports
WLC Incoming/Outgoing
YF&R Incoming/Outgoing
AFBF Delegate Announcement
2021 OKFB Ag PAC Report
Presidential Address/Election
Resolution Session
4 p.m. OKFB trade show closes
5 p.m. County presidents reception
5:30 p.m. OKFB Ag PAC Reception
7 p.m. Dinner and awards program
Speaker: Blayne Arthur, Oklahoma Secretary of Agriculture
Music: Mo Pitney
8:30 p.m. Reception
Sunday, Nov. 7
7:15 a.m. County presidents coffee talk session
7:15 a.m. WLC coffee talk session
7:15 a.m. Public Policy coffee talk session
8 a.m. Worship Service and Breakfast
Speaker: James Lankford, United States Senator
10 a.m. State board meeting
Updated Oct. 29