The American Farm Bureau Foundation for Agriculture and the Ford Motor Company are teaming up to put agriculture education resources in the hands of teachers and students across the country.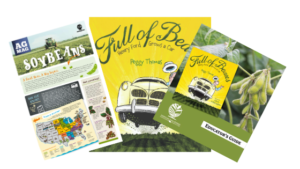 The Ford Motor Company is sponsoring the distribution of 285 kits, each containing one copy of the Foundation's 2020 Book of the Year, "Full of Beans," an educator guide and a classroom set (30-pack) of Soybeans Ag Mags.
Educators passionate about helping learners understand agriculture are encouraged to apply by Aug. 24. Grant winners will be randomly selected from the pool of applicants, and resource kits will be sent to the selected educators.
"We are hopeful that these resources will help students better understand how agriculture is part of their daily lives," said Christopher Brown, affinity marketing manager, Ford Motor Company. "Ford is progressing toward a goal of using recycled and renewable plastics in vehicles globally, with an increasing range of sustainable materials, and we hope this book will highlight some of those innovations," Brown said.
The book delves into Henry Ford's soybean car invention. The accompanying ag mag explores how soybeans grow and are used in many products, and the educator guide was developed using national learning standards, according to Daniel Meloy, executive director of the Foundation.
"Too often educators reach into their own pockets to pay for resources for their classrooms," Meloy said. "Thanks to Ford Motor Company's generous sponsorship, we're able to help ease that burden and continue to build their agricultural literacy libraries."
Learn more about the grant application process and apply on the AFBF Foundation for Agriculture website.