Jackson Caves from Amber-Pocasset was named the winner of the 2019 Oklahoma Farm Bureau High School Discussion Meet held July 16 in Stillwater.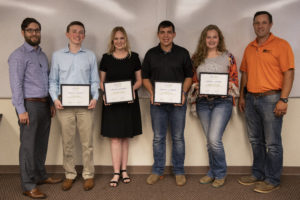 Held in conjunction with the Oklahoma State University Big Three Field Days, 11 students from across the state competed in the event. Through the discussion meet, participants gain valuable experience in basic discussion skills while developing an understanding of agricultural issues that the industry is currently facing.
Cassidy Baughman of Ardmore placed second in the contest, followed by Ryan Clark of Henryetta placing third and Sydney Williams of Calera placing fourth.
"Through this discussion meet, we hope the skills these students gain in preparing and participating in the event will serve as a valuable opportunity no matter their path," said Brent Haken, YF&R chair. "We as the YF&R committee are honored to do what we can in preparing the next generation of agriculturalists."
The event participants competed in two rounds of discussion before being narrowed to the final four. As top four finalists, the students earned $1,500, $1,000, $500 and $250 college scholarships.
The Oklahoma Farm Bureau Young Farmers and Ranchers program allows members between the ages of 18 and 35 to develop leadership skills, be involved in their local communities, compete in contests to win valuable prizes and develop long lasting friendships with people from across the state and country. To learn more about OKFB's YF&R program, visit okfarmbureau.org/yfr.