Comanche County Farm Bureau was honored with Oklahoma Farm Bureau's Lewis H. Munn Award on Saturday, Nov. 6 during the organization's 80th Annual Meeting in Norman.
Also known as the Farm Bureau Builders Award, the award is presented each year to the county that conducts the strongest program in a chosen area. This year, the program area was public relations.
"This gives us another challenge to keep moving forward," said Kerry Givens, Comanche County Farm Bureau president. "We are very proud to win this prestigious award."
Comanche County Farm Bureau and the county Women's Leadership Committee teamed up for the Cache Area Summer in the Street Celebration in May to inform and educate the public about the importance of agriculture. Through providing vegetable seeds, the organization informed the attendees on how to care for the plants while using the event to share Farm Bureau with the community and recruit potential new members. A $2,500 sponsorship of the Comanche County Junior Livestock Show allowed 4-H and FFA members to access photos from the show for free.
"Comanche County Farm Bureau can do an even better job at public relations within our community by collaborating with organizations and venues in the area," Givens said. "We are trying to bring people in to understand the impact of agriculture across the county."
The Lewis H. Munn award is named after the second president of Oklahoma Farm Bureau, whose philosophy centered on building strong county programs.
The Oklahoma Farm Bureau Annual Meeting is the organization's largest gathering of farmers and ranchers every year. At the event, members vote on grassroots policy, elect leaders and award outstanding individuals. OKFB has a presence in all 77 Oklahoma counties and serves as the voice of agriculture and the rural way of life. To learn more, visit www.okfarmbureau.org.
---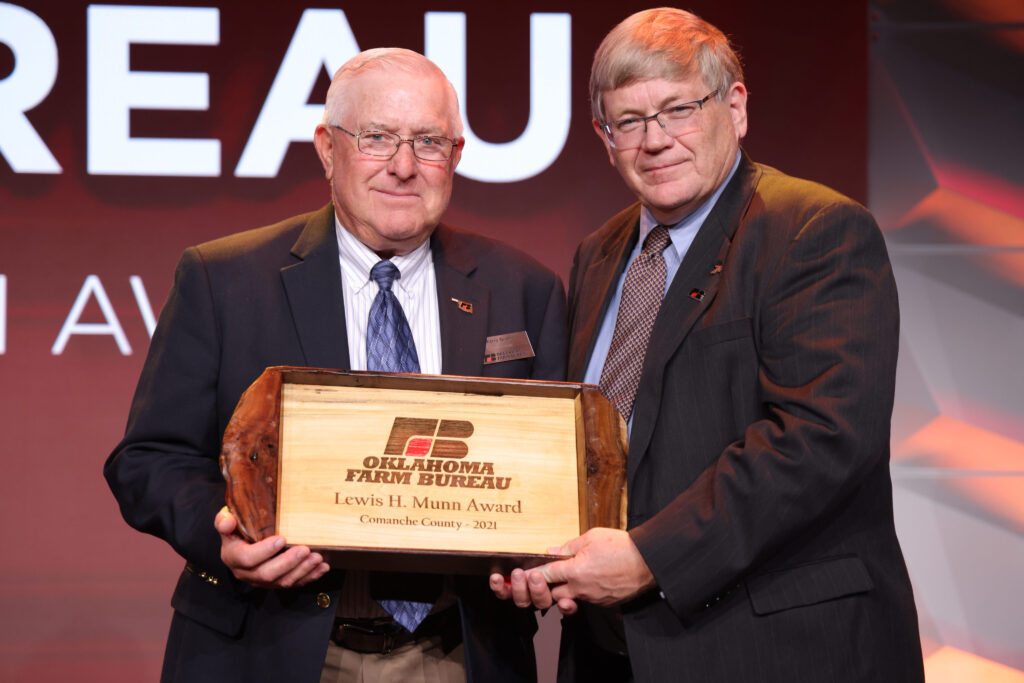 Download the photo of the 2021 OKFB Lewis H. Munn Award winner, Comanche County. Pictured left to right are: Kerry Givens, Comanche County Farm Bureau president; and Rodd Moesel, OKFB president.