The Edwards family of Stigler received the Oklahoma Farm Bureau Women's Leadership Committee's District Five Farm and Ranch Family Recognition during the organization's 78th annual meeting on Saturday, Nov. 9 in Oklahoma City.
Tony and Melissa Edwards of Haskell County have a cow/calf herd that they raise on 1,300 acres. The ranch was started by Tony's grandfather, and since then, the family has strived to be good stewards of the land as they care for their animals and the environment. After years of raising broiler chickens, the Edwards family is now focusing all their efforts on raising cattle with a close focus on environmental stewardship.
"I like the grass, the timber, the creeks, the ponds – I like it all," Tony said. "You got to love it. If you don't, you won't take care of it and if you don't take care of it you won't have anything."
The Edwards family controls weeds in their pastures through mowing, which Tony said promotes diversity in the farm's plant life. Tony said the diversity provides plentiful grazing opportunities for their cattle while promoting habitat for wildlife in the area.
The Edwards said their three boys – Matt, Cade and Clay – learned a multitude of important lessons growing up on the farm will help them throughout life.
"It's not really knowing how to work, it's just knowing how to be helpful," Tony said. "If you see someone struggling, you help them. That applies out here on the place. If I'm stretching a wire and having trouble tying it, Clay steps in and helps. That's just paying attention and being helpful to others."
Melissa works off the farm as a Haskell County field appraiser, and she loves the opportunity to raise her family close to the land.
"I think it's a blessing getting to do this," Melissa said of farm life. "There's not very many families that get to do this. I enjoy it and I wouldn't want it any other way. I just enjoy what God has given us."
The Edwardses are involved in their local community with Tony serving as president of Haskell County Farm Bureau.
OKFB's Farm & Ranch Family Recognition program honors a farm and ranch family in each of OKFB's nine districts who upholds the best traditions of Oklahoma agriculture and rural Oklahoma as they raise food and fiber for our state and beyond.
"Our farm and ranch families do a tremendous job caring for the land and their animals as they work to feed and clothe us all," said Mignon Bolay, OKFB WLC chair. "Our Women's Committee is proud to honor these great families who help make rural Oklahoma a wonderful place to live."
As part of their recognition, the family received a cash award along with a custom sign to hang at their farm gate.
The Oklahoma Farm Bureau Annual Meeting is the organization's largest yearly gathering of farmers and ranchers. At the event, members vote on grassroots policy, elect leaders and award outstanding individuals. OKFB has a presence in all 77 Oklahoma counties and serves as the voice of agriculture and the rural way of life. To learn more, visit www.okfarmbureau.org.
---
High-resolution photo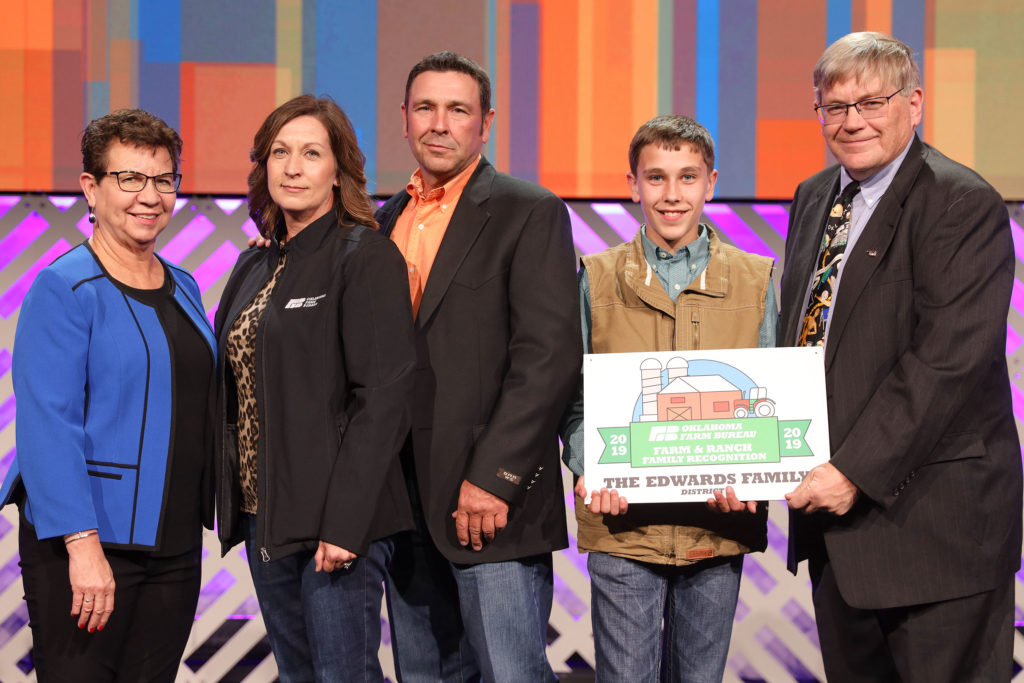 Download a high-resolution photo of the Edwards family receiving their 2019 Farm and Ranch Family Recognition.