Nearly 80 women from across the state met for the 2019 Oklahoma Farm Bureau Women's Leadership Committee Fall Conference Sept. 28 and 29 at the Hilton Garden Inn and Conference Center in Edmond.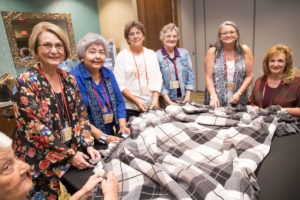 The two-day conference featured educational workshops, crafts and activities and a trade show. Attendees also had the opportunity to hear from Oklahoma Secretary of Agriculture Blayne Arthur who shared her efforts to work for farmers, ranchers and rural Oklahomans.
Through a silent auction at the event, conference participants helped raise more than $1,500 for the Oklahoma Farm Bureau Foundation for Agriculture's Bushels for Books program which provides accurate agricultural books to classrooms and school libraries across the state.
The women also helped create blankets to donate to Ronald McDonald House Charities in Oklahoma City and Tulsa.