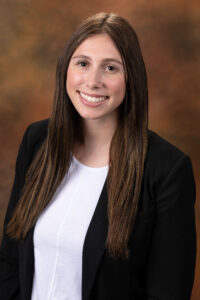 Megan Fragasso, an agricultural communications senior at Oklahoma State University, recently joined Oklahoma Farm Bureau as the 2022 communications summer intern.
Fragasso will assist the OKFB communications and public relations department with writing news and feature stories, managing social media, updating the organization's website, developing print products for organizational programs, covering various Farm Bureau events and more.
"Growing up on my family's farm and ranch, I saw their dedication to the industry, and their passion has been engrained in me," Fragasso said. "I am proud to be able to advocate for agriculture while also growing my skills for the future."
She grew up learning about her family's cattle ranch and viticulture operation in San Luis Obispo, California, and Bigfork, Montana.
Fragasso attended Montana State University before transferring to OSU, where she is majoring in agricultural communications with a minor in agribusiness and agricultural economics. She will graduate in spring 2023, and she plans to work in the communications field for an agricultural organization.