Travis and Rylee Schnaithman were honored with the Oklahoma Farm Bureau Young Farmers and Ranchers Achievement Award on Saturday, Nov. 12 at the organization's 81st annual meeting in Norman.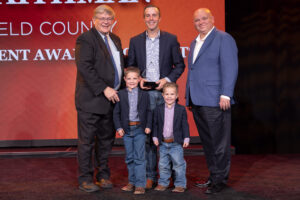 The Farm Bureau Achievement Award recognizes Young Farmers and Ranchers who have excelled in their farming or ranching operation and have honed their leadership abilities through Farm Bureau and other activities and organizations.
"It's quite an honor and I feel very humbled," said Travis Schnaithman. "This is something where I've watched previous winners in past years and thought, 'I'd like to be like them and have operations on the same caliber as them.'"
The Schnaithmans are part of a multigenerational centennial farm in Garfield County where they farm alongside Travis's father and brother. The Schnaithmans grow wheat, corn and soybeans in addition to their cow-calf operation.
As Achievement Award winners, the Schnaithmans received a John Deere Gator courtesy of Hilliary Communications. The Schnaithmans also will receive an expense-paid trip to San Juan, Puerto Rico, for the 2023 American Farm Bureau Federation Annual Meeting in January. The Schnaithmans will compete on a national level for the AFBF Young Farmers and Ranchers Achievement Award during the AFBF Annual Meeting.
The Oklahoma Farm Bureau Annual Meeting is the organization's largest gathering of farmers and ranchers every year. At the event, members vote on grassroots policy, elect leaders and award outstanding individuals. OKFB has a presence in all 77 Oklahoma counties and serves as the voice of agriculture and the rural way of life. To learn more, visit okfarmbureau.org.
---
Download a high-resolution photo of the 2022 OKFB YF&R Achievement Award winners suitable for printing (jpeg link).