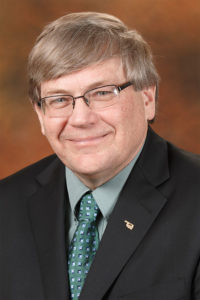 Rodd Moesel was re-elected to another two-year term as president of Oklahoma Farm Bureau by voting delegates at the organization's annual meeting Nov. 9 in Oklahoma City. Moesel was first elected as OKFB president in 2017 after previously representing District Three on the OKFB board for seven years.
"I'm very honored," Moesel said of being re-elected. "I really appreciate the support of the members. I'm grateful for all the kind words and for the support to tackle another two years."
Moesel and his wife, Dona, own and operate American Plant Products and Services in western Oklahoma City. The grandson of dairy farmers and lifelong Farm Bureau members, Moesel grew up on a vegetable farm and greenhouse operation. He first became involved in the farm organization as a 4-H member.
Board members, committee leaders elected
David VonTungeln of Canadian County was re-elected to a three-year term as District Three Director. VonTungeln will represent Blaine, Caddo, Canadian, Grady, Kingfisher, Logan and Oklahoma counties.
Members in District Six re-elected James Fuser of Afton to serve a three-year term on the OKFB board of directors. Counties represented in District Six include Adair, Cherokee, Craig, Delaware, Mayes, McIntosh, Muskogee, Nowata, Ottawa, Rogers, Sequoyah and Wagoner.
Okmulgee-native Jim Meek was re-elected to a three-year term representing District Nine on OKFB's board of directors. Creek, Lincoln, Okfuskee, Okmulgee, Osage, Payne, Pawnee, Tulsa and Washington counties are represented in District Nine.
The OKFB Women's Leadership Committee re-elected Cindy Schoenecke of Lincoln County to represent District Nine for another three-year term. Karen Krehbiel Dodson of Caddo County was chosen to represent District Three for a three-year term.
The OKFB Young Farmers and Ranchers Committee elected Nocona and Jordan Cook of Washita County to serve as chairmen for a one-year term. Logan and Brittany Hukill of Caddo County were elected as vice chairmen and Will and Leslie Lewis of Okmulgee County will serve as committee secretary. Additional committee members elected this year include Chris Hoskins, Rogers County, District Six; Dustin Ratliff, Noble County, District Seven; Cody and Kara Goodknight, Comanche County, At-Large; and Austin Jackson, Payne County, At-Large.
---
The Oklahoma Farm Bureau Annual Meeting is the organization's largest gathering of farmers and ranchers every year. At the three-day convention, members vote on grassroots policy, elect leaders and award outstanding individuals. OKFB has a presence in all 77 Oklahoma counties and serves as the voice of agriculture and the rural way of life. To learn more, visit www.okfarmbureau.org.