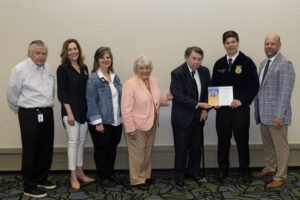 The Oklahoma Farm Bureau Foundation for Agriculture recognized more than 140 Oklahoma FFA chapters for donating to the foundation's Pork for Packs program as a part of the 2022-2023 Oklahoma FFA Hunger Challenge.
A total of $13,297 and 310 hogs were donated to the program throughout the school year.
Pork for Packs – a collaboration between the OKFB Foundation for Agriculture, the Regional Food Bank of Oklahoma and the Community Food Bank of Eastern Oklahoma – provides protein sticks for chronically hungry children in Oklahoma. The protein sticks are included in food-filled backpacks given to students to eat during weekends and holidays, when meals at school are not available.
The monetary and in-kind donations were able to produce 496,000 protein sticks for hungry children across Oklahoma.
The FFA Hunger Challenge encourages students to donate their animals to the program during the Tulsa State Fair and the Oklahoma Youth Expo. Chapters can also make cash contributions through adding a quarter to the price of each fundraising product sold throughout the year.
This year, Kellyville FFA – one of 144 participating chapters – was recognized as the FFA chapter with the highest monetary contribution, donating $1,600 to the program.
For more information about Pork for Packs or the FFA Hunger Challenge, contact Holly Carroll at (405) 523-2300.