Jake and Kelly Decker of Noble County and Garrett Haskins of Kay County were honored with the 2023 and 2024 Oklahoma Farm Bureau Young Farmers and Ranchers Achievement Awards, respectively, on Saturday, Nov. 11 during the organization's 82nd annual meeting in Oklahoma City.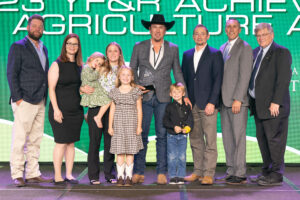 The Farm Bureau Achievement Award recognizes Young Farmers and Ranchers who have excelled in their farming or ranching operation and have honed their leadership abilities through Farm Bureau and other activities and organizations.
"This is really a huge honor," said Jake Decker of winning the 2023 award. "We are first-generation, so that is another part to our story that makes it even better. It is difficult to make it in agriculture, but we have worked hard to make it work. Being first-generation, we didn't have anything holding us back – we just went after it."
The Deckers and their three children raise cattle and hair sheep on their ranch near Orlando.
"Looking back now, I'm not sure how we did it, but being first-generation really helped us because we didn't know exactly what we were getting into," Decker said. "We just started doing it, and we looked up and had made a lot of progress."
This year, OKFB named both the 2023 and 2024 award winners in an effort to better align the state-level competition cycle to American Farm Bureau's national competitions.
The 2024 winner, Garrett Haskins, runs a cow-calf operation and raises wheat, soybeans and grain sorghum in Kay County.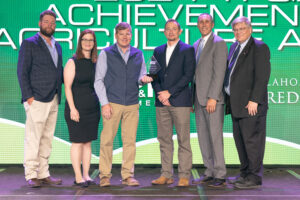 "Winning this award means a lot to me," Haskins said. "I was elected to the Kay County Farm Bureau board nine years ago, and I worked really hard, got more involved and got to meet all of these people that all became like family, and to receive something like this is just icing on the cake for me to move forward with my Farm Bureau career and better agriculture in any way I can."
As Achievement Award winners, the Deckers and Haskins received John Deere gators, courtesy of P&K Equipment. The Deckers received an expense-paid trip to the 2024 AFBF Annual Meeting in Salt Lake City, Utah, and Haskins received an expense-paid trip to the 2025 AFBF Annual Meeting in San Antonio, Texas, where they will compete on a national level for the AFBF YF&R Achievement Award.
The Oklahoma Farm Bureau Annual Meeting is the organization's largest gathering of farmers and ranchers every year. At the event, members vote on grassroots policy, elect leaders and award outstanding individuals. OKFB has a presence in all 77 Oklahoma counties and serves as the voice of agriculture and the rural way of life. To learn more, visit okfarmbureau.org.
---
Download a high-resolution photo of Jake and Kelly Decker, 2023 Achievement Award winners.
Download a high-resolution photo of Garrett Haskins, 2024 Achievement Award winner.