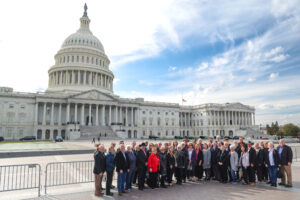 Nearly 60 Oklahoma Farm Bureau members advocated for agriculture and rural Oklahoma in the nation's capital during OKFB's Washington, D.C. Summit March 27-31.
Members had the opportunity to talk with Oklahoma's congressional delegation who are making decisions that impact farmers, ranchers and rural Oklahomans.
"We had a lot of wonderful opportunities to sit down with our senators and representatives and talk face-to-face and ask those hard questions," said Jacob Beck, OKFB Young Farmers and Ranchers district three representative. "It has been very eye-opening and reassuring that our delegation is thinking about us in agriculture."
Senators James Lankford and Markwayne Mullin and Congressmen Frank Lucas, Kevin Hern, Stephanie Bice and Josh Brecheen, along with staff from Congressman Tom Cole's office, provided insight into top issues in Washington, D.C. The 2023 farm bill was at top of OKFB members' minds during their discussions with the congressional delegation.
Farm Bureau members had the unique opportunity to be lead on a private Capitol tour for Senator Lankford.
The group also heard from a variety of industry leaders including European Union Agricultural Counsellor Silke Boger; American Farm Bureau Federation's Andrew Walmsley and Shelby Hagenauer; the National Association of State Departments of Agriculture's Stephanie McBath; the National Governors Association Tim Carlton and Will Carraco; and CropLife America Federal Relations Director Thomas Mills.
"Being involved in Oklahoma Farm Bureau is something that allows all farmers and ranchers to be heard," Beck said. "The trip was also a good way to see how things are done at the Capitol. We got to see perspectives that you would have never known.
"As a young farmer or rancher, Farm Bureau gives you an opening to know how the legislative process works and gives someone the opportunity to reach out and make your voice heard. This has been an opportunity I will never take for granted," Beck said.