The Oklahoma Farm Bureau Ag Fund, the organization's political action committee, has endorsed 13 candidates and financially supported 41 candidates running for election in statewide, state Senate and state House races.
The OKFB Ag Fund board, comprised of farmers and ranchers from each OKFB district, met Thursday, May 28 to donate a total of $39,000 to candidates and to choose candidates for endorsement.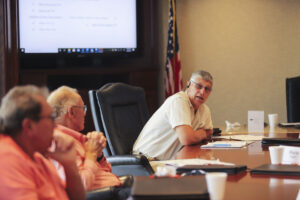 Based on the recommendations of Farm Bureau members from across the state, the Ag Fund supports candidates who uphold the beliefs and values of rural Oklahoma. While the Ag Fund contributes financially to candidates, an endorsement is the highest level of support the committee gives to chosen candidates.
The Ag Fund has endorsed Todd Hiett, a candidate running for reelection as corporation commissioner.
Oklahoma Senate candidates receiving an endorsement from the Ag Fund include Larry Boggs, SD 7; Roland Pederson, SD 19; and Greg Treat, SD 47.
The Ag Fund endorsed nine Oklahoma House candidates including Rick West, HD 3; Jim Grego, HD 17; Dell Kerbs, HD 26; Kyle Hilbert, HD 29; Chad Caldwell, HD 40; Jay Steagall, HD 43; Todd Russ, HD 55; Kenton Patzkowsky, HD 61; and Jon Echols, HD 90.
Jackson County Farm Bureau member Keeff Felty was chosen to serve as chairman by fellow members of the Ag Fund board. Other members include Leon Richards, Texas County, District One; Wayne Taggart, Caddo County, District Three; Roger Fisher, Cotton County, District Four; Terry Caldwell, Choctaw County, District Five; Charlie Coblentz, Mayes County, District Six; Steve Clark, Alfalfa County, District Seven; LeRoy Odell, Pottawatomie County, District Eight; and Sue Farmer, Lincoln County, District Nine.
"So much of our day-to-day lives on the farm are impacted by the decisions that are made by the state Legislature and statewide elected officials," said Keeff Felty, OKFB Ag Fund chair. "The OKFB Ag Fund gives us as farmers and ranchers the ability to support candidates who know and understand the realities of how we do what we do and why we do it."
The OKFB Ag Fund is supported by voluntary contributions from OKFB members across the state as an option portion of their membership dues. The Ag Fund board will meet to consider further support following Oklahoma's June 30 primary election and again after the Aug. 25 runoff election.