Oklahoma Farm Bureau and Oklahoma 4-H have teamed up to establish the Oklahoma Farm Bureau/Oklahoma 4-H ATV Training Facility in an effort to combat the rise of off-road accidents across the state.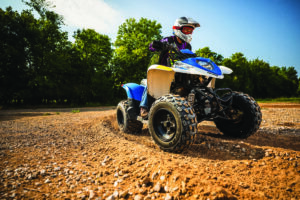 Located on 25 acres near the Logan County Fairgrounds in Guthrie, ATV riders 10-years-old and above can participate in the program that covers basic safety techniques through a variety of exercises. The ATV RiderCourse consists of a two-hour online e-course at home, followed by a three-hour hands-on class instructed by licensed ATV Safety Institute instructors.
Youth groups have the option to add a teamwork and leadership component to the course.
For more information on participating in or hosting an ATV safety training course, contact Burton Harmon with OKFB Safety Services at (405) 523-2300 or visit okfarmbureau.org/safety.