Oklahoma Farm Bureau will host its OKFB Expo alongside the organization's 78th annual meeting held Nov. 8-10 in downtown Oklahoma City. Members attending the three-day convention are encouraged to visit the variety of exhibitors, including farm equipment, agribusiness services, jewelry, home decor and more.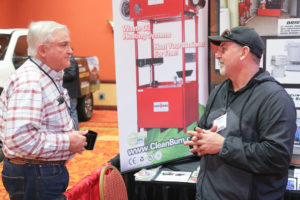 The trade show will be open Friday, Nov. 8 from 11 a.m. to 6 p.m. and on Saturday, Nov. 9 from 8 a.m. to 4 p.m.
Below is a list of vendors.
A Slice of Whimsy
Alltech
Ag Boost
Farm Bureau Financial Services
Farm Credit of Western Oklahoma
John Vance Auto Group
Leslie G. Sparks, P.C.
Lewis Cattle Oilers/MB Enterprise
Oklahoma Ag in the Classroom
Oklahoma Association of Nurse Anesthetists
Oklahoma Baptist Homes for Children
Oklahoma Department of Agriculture, Food and Forestry
Oklahoma Wheat Commission
Oklahoma State University Agricultural Economics Department
P&K Equipment
PEP Solar
Regional Food Bank of Oklahoma
Sandra McPeek
Scentsy
Spirited Gypsy Boutique
Stephanie's Selections
Stranded Jewelry
Uniques Unlimited
Wiggins Auctioneers
Oklahoma Farm Bureau Women's Leadership Committee
Oklahoma Farm Bureau Young Farmers & Ranchers
Oklahoma Farm Bureau Store
Oklahoma Farm Bureau Human Resources
Businesses and organizations interested in hosting a booth at the OKFB Expo can contact call (405) 523-2300 and ask for Kelli Beall or Whitney Bender.