Oklahoma Farm Bureau members will enjoy an evening of fellowship and fun at the Foundation Night Out on Friday, Nov. 8 at 6:30 p.m. during the organization's 78th Annual Meeting in downtown Oklahoma City.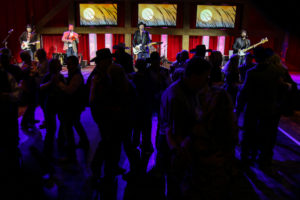 The evening will highlight some of the work of the OKFB Foundation for Agriculture as it presents educators from across the state with bushel baskets of accurate agriculture books from the Bushels for Books program.
An excellent opportunity to catch up with friends from across the state, the Foundation Night Out also will feature a concert by Jimmy Dale and The Beltline, bingo and corn hole games, and a dessert reception.
For more information about attending the OKFB annual meeting, please contact your county Farm Bureau office. Click here to view a full annual meeting agenda.