Oklahoma Farm Bureau will send five voting delegates to represent OKFB members at the business session of the 2023 American Farm Bureau Annual Meeting in Puerto Rico.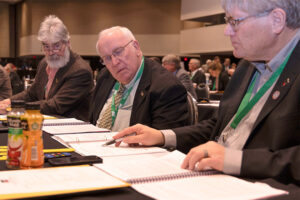 Farm Bureau delegates from around the country will gather on Tuesday, Jan. 10 to discuss and vote on policy proposals to determine AFBF policy for the coming year.
OKFB members submitted grassroots policy proposals to be considered by the AFBF delegate body, and resolutions and ideas submitted by Oklahoma members will be heard on the business session floor.
One of the top areas of interest for the business session is anticipated to be the role and impact of environmental, social, and governance considerations upon businesses, and especially production agriculture. Numerous resolutions concerning ESG were submitted, and AFBF created a new title in the organization's policy book concerning the issue. OKFB members voiced their concerns about the potential use of ESG scoring on businesses during the 2022 OKFB annual meeting.
OKFB delegates will also be watching policy proposals focusing on changes to commercial driver's license requirements. Farm Bureau members are especially interested in ensuring requirements for new CDLs and renewals of the licenses do not impose overburdensome requirements on license holders.
With farm bill discussions on the horizon, OKFB members will be monitoring policy proposals concerning farm programs, conservation efforts, crop insurance and nutrition assistance programs to ensure an appropriate safety net for agricultural producers is available while keeping federal spending at appropriate levels.
Environmental regulations, and especially the actions of the Environmental Protection Agency, are another area of concern for Oklahoma agriculturalists. OKFB delegates intend to support policies that ensure the EPA does not overstep its regulatory authority and ensure that sound science is used by the EPA to make decisions.
Oklahoma delegates will also watch policies concerning interstate commerce as well as trucking and vehicle regulations.
For more information about the 2023 AFBF Annual meeting, including virtual registration opportunities, visit annualconvention.fb.org.