Time is running out for rural Oklahomans to stand up and be counted in the 2020 Census.
As the final census deadline continues to fluctuate, OKFB members are encouraged to make sure their family, friends and neighbors have completed the census. From securing federal dollars to impacting rural representation, an accurate and complete count of rural Oklahoma is critical for the future of the rural way of life.
The 2020 Census can be completed online by visiting my2020census.gov or over the phone by calling 844-330-2020.
While 60.8% of Oklahomans have self-responded to the census, a total of 99.6% of Oklahoma households have been counted as of Oct. 5, 2020.
2020 Census self-response rates by county, as of Oct. 5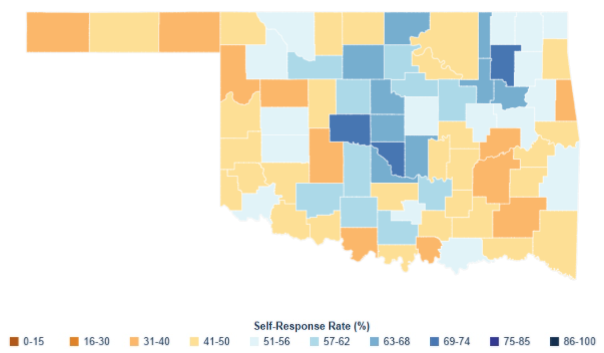 Top 10 Oklahoma counties for response rates, as of Oct. 5
Canadian County, 72.4%
Cleveland County, 70.0%
Rogers County, 69.8%
Wagoner County, 68.5%
Washington County, 67.7%
Tulsa County, 67.3%
Logan County, 66.2%
Oklahoma County, 65.9%
Garfield County, 65.8%
McClain County, 64.5%
Bottom 10 Oklahoma counties for response rates, as of Oct. 5
Marshall County, 31.1%
McIntosh County, 32.3%
Cimarron County, 33.8%
Pittsburg County, 38.3%
Beaver County, 38.7%
Adair County, 39.0%
Pushmataha County, 39.3%
Caddo County, 39.6%
Ellis County, 40.0%
Dewey County, 40.7%
Find your county's up-to-date census self-response rate on the 2020 Census website.