Oklahoma Farm Bureau Young Farmers and Ranchers named the winners of three discussion meet competitive events on Saturday, Nov. 12 during the organization's 81st annual meeting in Norman.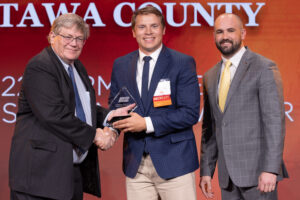 Dillon Johnson of Ottawa County Farm Bureau was named the winner of the 2022 YF&R Discussion Meet, and Taylor Fent of Northeastern Oklahoma College was named the 2022 Collegiate Farm Bureau Discussion Meet winner.
Kennedy Clark of Minco FFA was named the High School Discussion Meet winner, which was held on Thursday, Nov. 10.
YF&R competitors faced fellow participants in three rounds of panel-style discussion where each competitor's performance was evaluated on the exchange of ideas and information on predetermined topics. Participants were judged on their ability to offer constructive input, cooperation and communication while analyzing agricultural problems and developing solutions.
As the YF&R discussion meet winner, Johnson received a John Deere lawnmower, sponsored by P&K Equipment. Johnson also has the opportunity to compete in the national discussion meet contest at the 2023 American Farm Bureau Federation Annual Meeting Jan. 6-11 in San Juan, Puerto Rico.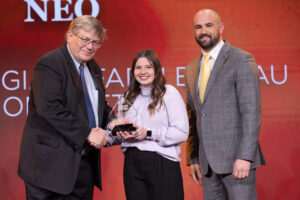 The collegiate winner received an expense-paid trip to the 2023 AFBF FUSION Conference March 3-6 in Jacksonville, Florida.
As the high school winner, Kennedy Clark received a $1,500 scholarship. Carter Caves of Amber-Pocasset FFA placed second to receive a $1,000 scholarship, Kalen Groves of Beggs FFA received a $500 scholarship for placing third, and Caylee McPhearson of Minco FFA received a $250 scholarship for placing fourth.
The Oklahoma Farm Bureau Annual Meeting is the organization's largest gathering of farmers and ranchers every year. At the event, members vote on grassroots policy, elect leaders and award outstanding individuals. OKFB has a presence in all 77 Oklahoma counties and serves as the voice of agriculture and the rural way of life. To learn more, visit okfarmbureau.org.
---
Download a high-resolution photo of OKFB YF&R Discussion Meet Award Winner Dillon Johnson suitable for printing (jpeg link).
Download a high-resolution photo of OKFB Collegiate Discussion Meet Award Winner Taylor Fent suitable for printing (jpeg link).