Oklahoma Farm Bureau Young Farmers and Ranchers named the winners of four discussion meet competitive events on Saturday, Nov. 11 during the organization's 82nd annual meeting in Oklahoma City.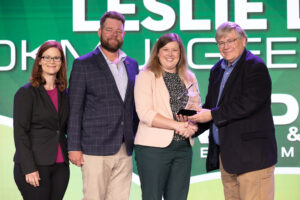 Leslie Lewis of Okmulgee County was named the 2023 winner of the YF&R Discussion Meet, which was held in late July during the OKFB YF&R Summer Conference, and Jacob Beck of Logan County was named the 2024 winner after the discussion meet competition during OKFB's annual meeting on Nov. 10.
Cassidy Cashen of Oklahoma State University was named the 2023 Collegiate Farm Bureau Discussion Meet winner, and Ashlee Purvine of Thomas-Fay-Custer FFA was named the High School Discussion Meet winner.
YF&R competitors faced fellow participants in a panel-style discussion where each competitor's performance was evaluated on the exchange of ideas and information on predetermined topics. Participants were judged on their ability to offer constructive input, cooperation and communication while analyzing agricultural problems and developing solutions.
As the YF&R Discussion Meet winners, Lewis and Beck received a John Deere lawnmower, sponsored by P&K Equipment. Lewis also won a trip to the 2024 American Farm Bureau Annual Meeting in Salt Lake City, Utah, and Beck won a trip to the 2025 AFBF Annual Meeting in San Antonio, Texas, where they will compete in the national discussion meet contest.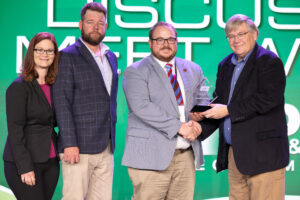 The collegiate winner received an expense-paid trip to represent Oklahoma at the 2024 AFBF Collegiate Discussion Meet in Omaha, Nebraska, and the high school winner received a cash prize.
The Oklahoma Farm Bureau Annual Meeting is the organization's largest gathering of farmers and ranchers every year. At the event, members vote on grassroots policy, elect leaders and award outstanding individuals. OKFB has a presence in all 77 Oklahoma counties and serves as the voice of agriculture and the rural way of life. To learn more, visit okfarmbureau.org.
---
Download a photo of Leslie Lewis, 2023 YF&R Discussion Meet winner.
Download a photo of Jacob Beck, 2024 YF&R Discussion Meet winner.
Download a photo of Cassidy Cashen, 2023 Collegiate Discussion Meet winner.