Okmulgee County Farm Bureau was honored with Oklahoma Farm Bureau's Lewis H. Munn Award on Saturday, Nov. 12 during the organization's 81st annual meeting in Norman.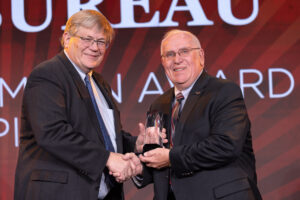 Also known as the Farm Bureau Builders Award, this award is presented each year to the county that conducts the strongest program in a chosen area. This year, the program area was member recruitment.
Okmulgee County Farm Bureau hosted the first-ever Okmulgee County Agriculture Tour in late September to showcase Okmulgee County's diverse agricultural commodities. The Okmulgee County Young Farmers and Ranchers planned and executed the tour from start to finish, working with local organizations to raise money and provide transportation for the tour. During the tour, participants of all ages visited the operations of three Okmulgee County Farm Bureau member families as well as a local meat processing facility.
"This award is very special to our county," said Jim Meek, Okmulgee County Farm Bureau president. "It represents the work of our hard-working members. We are proud that we are able to promote agriculture, Farm Bureau, Okmulgee County and eastern Oklahoma to make it better."
The Lewis H. Munn award is named after the second president of Oklahoma Farm Bureau, whose philosophy centered on building strong county programs.
The Oklahoma Farm Bureau Annual Meeting is the organization's largest gathering of farmers and ranchers every year. At the event, members vote on grassroots policy, elect leaders and award outstanding individuals. OKFB has a presence in all 77 Oklahoma counties and serves as the voice of agriculture and the rural way of life. To learn more, visit okfarmbureau.org.
---
Download a high-resolution photo of the 2022 OKFB Lewis H. Munn award presentation suitable for printing (jpeg link).