The Okmulgee County Young Farmers and Ranchers Committee was honored with the 2022 Oklahoma Farm Bureau YF&R Charles L. Roff Award on Saturday, Nov. 12 during the organization's 81st annual meeting in Norman.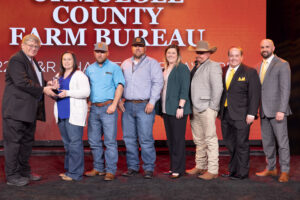 Presented to the state's top county YF&R committee, the Charles L. Roff Award encourages YF&R members to improve their local committees while strengthening the Farm Bureau organization.
"We worked really hard on several activities we put together this year," said Leslie Lewis, chairman of the Okmulgee County YF&R alongside her husband Will Lewis. "It means a lot to use to be able to give back to our community through our various programs. Being presented this award really brings it all together for us."
In 2022, the Okmulgee County YF&R committee planned and executed the first Okmulgee County Agriculture Tour for members and area residents to learn more about the county's diverse agricultural production areas. The committee raised funds to cover transportation and carefully planned out several tour stops for attendees of all ages.
The YF&R committee hosted and participated in a number of other events throughout the year, including a pancake breakfast fundraiser, a tractor-driving contest, multiple safety courses, a silent auction and more. They also purchased livestock premiums and offered scholarships to students in Okmulgee County.
Several Okmulgee County YF&R committee members were active on the state and national level in 2022, attending the OKFB YF&R Summer Conference, the American Farm Bureau Federation FUSION Conference and participating in YF&R competitive events.
The county received a traveling plaque in recognition for their outstanding committee involvement.
The Oklahoma Farm Bureau Annual Meeting is the organization's largest gathering of farmers and ranchers every year. At the event, members vote on grassroots policy, elect leaders and award outstanding individuals. OKFB has a presence in all 77 Oklahoma counties and serves as the voice of agriculture and the rural way of life. To learn more, visit www.okfarmbureau.org.
---
Download a high-resolution photo of the 2022 OKFB Charles L. Roff Award winners suitable for printing (jpeg link).