Will and Leslie Lewis were honored with the Oklahoma Farm Bureau Young Farmers and Ranchers Excellence in Agriculture Award at the organization's annual meeting Nov. 6 in Norman.
The award is presented to young farmers and ranchers – who do not derive a majority of their income from an operation – for excellence in Farm Bureau and the agriculture industry.
"We started our operation less than six years ago, so this award really means a lot to us," Leslie said. "We are thankful for Farm Bureau to allow us to take on leadership roles and be involved in our community."
The Lewis family operates a commercial cow-calf operation in Okmulgee County while Leslie is an Okmulgee County Extension educator and Will is a service technician with Tecta America Oklahoma.
The couple serves as the YF&R vice chair and the Okmulgee County YF&R committee chair. Will is also the Okmulgee County Farm Bureau vice president.
"We got involved in Farm Bureau and Young Farmers and Ranchers because we wanted to be involved in something that we actually have a voice in," Will said. "As far as organizations go, this is one of the only true grassroots organizations."
As the Excellence in Agriculture Award winner, the Lewis family received a Can-Am Outlander 450 ATV, courtesy of Farm Credit of Western Oklahoma. They also earned a trip to the American Farm Bureau Federation Annual Meeting in January in Atlanta, Georgia, where the pair will compete for the AFBF Excellence in Agriculture Award.
The Oklahoma Farm Bureau Annual Meeting is the organization's largest yearly gathering of farmers and ranchers. At the event, members vote on grassroots policy, elect leaders and award outstanding individuals. OKFB has a presence in all 77 Oklahoma counties and serves as the voice of agriculture and the rural way of life. To learn more, visit okfarmbureau.org. 
---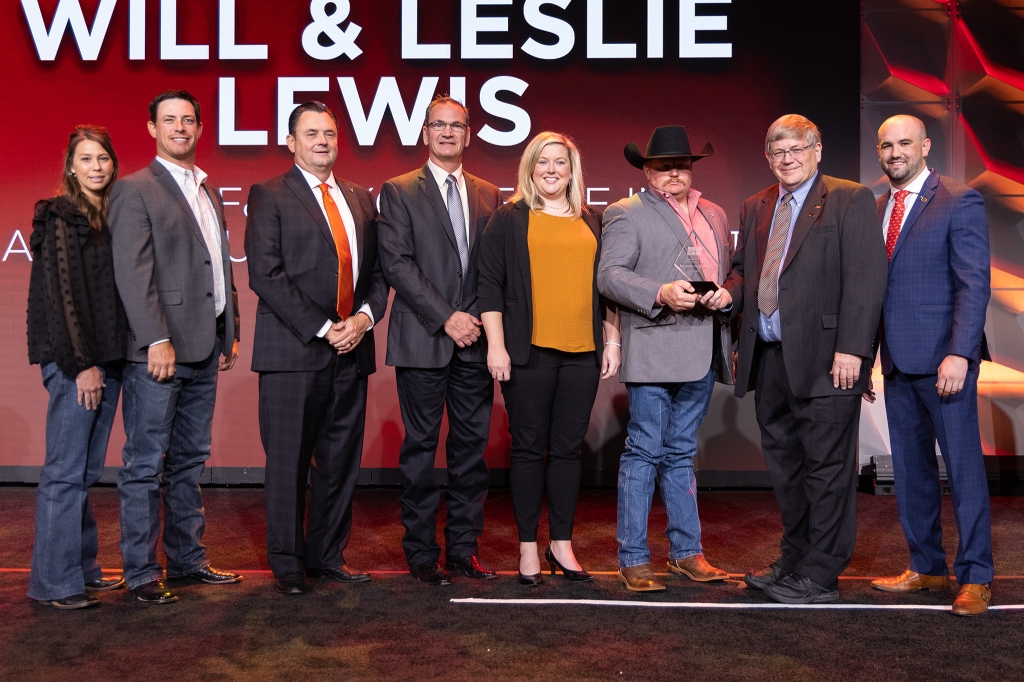 Download the photo of the 2021 OKFB YF&R Excellence in Agriculture Award winners Will and Leslie Lewis. Pictured left to right are: Kara and Cody Goodknight, 2021 OKFB YF&R Chairmen; John Grunewald, president and CEO of Farm Credit of Western Oklahoma; Patrick Zeka, president and CEO of Oklahoma AgCredit; Leslie and Will Lewis; Rodd Moesel OKFB president; and Zac Swartz, OKFB YF&R coordinator.