Okmulgee County Farm Bureau was presented with the 2021 Oklahoma Farm Bureau John I. Taylor Award on Saturday, Nov. 6 during the organization's 80th annual meeting in Norman.
Named after OKFB's first president, the award serves as the organization's highest county honor, recognizing the Farm Bureau county with the most effective programs and activities.
Okmulgee County was honored for excelling in the program areas of public policy, service to members, public relations, membership, Women's Leadership Committee and Young Farmers and Ranchers Committee.
"We have been very fortunate to have an active YF&R and WLC and been active within our community," said Jim Meek, Okmulgee County Farm Bureau president. "We have been working to share agriculture within our community to build a brighter future for those who want to be involved."
Throughout 2021, Okmulgee County Farm Bureau focused on member engagement in all of their events after a year with no events due to the COVID-19 pandemic. The county YF&R hosted a pancake breakfast during the spring livestock show featuring a membership table to promote and grow the organization. Okmulgee County shared the story of agriculture through sponsoring the OKFB Foundation for Agriculture commodity trailer, invited community leaders and legislators to meetings including their Legislative Forum, and shared agriculture issues and information on its Facebook page.
"We have gotten back into the schools to do some fire safety and other safety programs with those students," Meek said. "As we move forward, we are looking at how we can improve on what we have already done."
The Oklahoma Farm Bureau Annual Meeting is the organization's largest gathering of farmers and ranchers every year. At the event, members vote on grassroots policy, elect leaders and award outstanding individuals. OKFB has a presence in all 77 Oklahoma counties and serves as the voice of agriculture and the rural way of life. To learn more, visit www.okfarmbureau.org.
---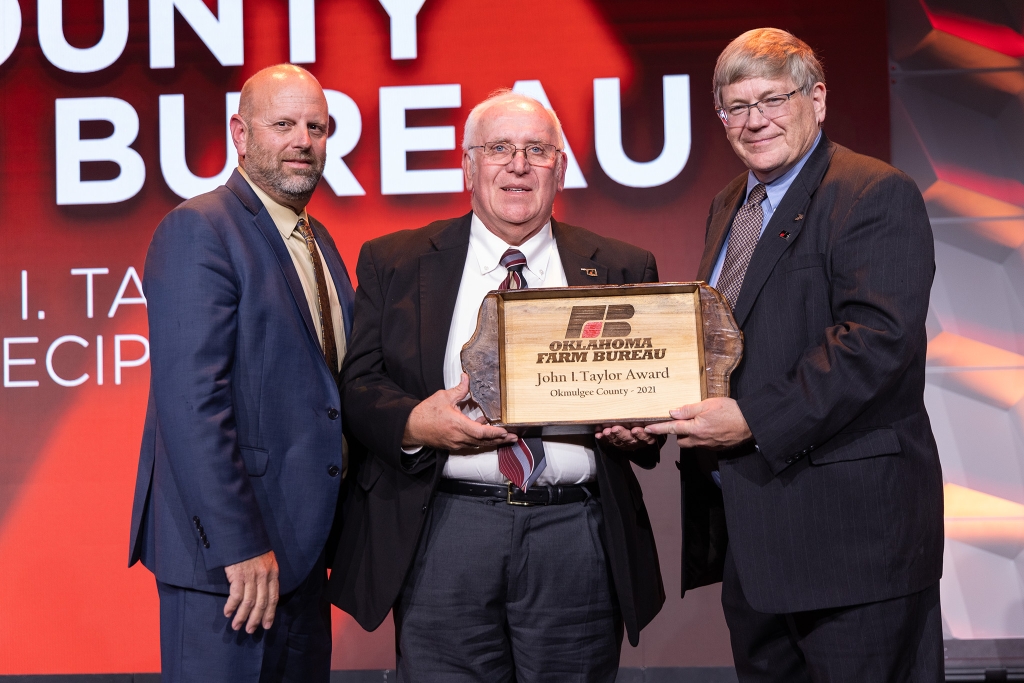 Download the photo of Okmulgee County Farm Bureau President Jim Meek (center) receiving the 2021 OKFB John I. Taylor Award from OKFB President Rodd Moesel (right) and Executive Director Thad Doye (left).