Okmulgee County Farm Bureau was honored with Oklahoma Farm Bureau's Lewis H. Munn Award on Saturday, Nov. 9 during the organization's 78th Annual Meeting in Oklahoma City.
Also known as the Farm Bureau Builders Award, the award is presented each year to the county that conducts the strongest program in a chosen area. This year, the program area was volunteer engagement.
"In Okmulgee County, we look at how we can go into our elementary schools, junior highs and high schools and educate them about agriculture," said Jim Meek, Okmulgee County president. "But that comes about because our members, our Women's Leadership Committee and our YF&R care about the future of agriculture and about putting agriculture in a positive light in our community."
Okmulgee County Farm Bureau members planned and hosted a tractor driving competition for 4-H and FFA members at the Okmulgee County Fall Fair. The event allowed Farm Bureau members to discuss and encourage farm safety among the participants. The county also used the event to share Farm Bureau with area students and their parents and recruit potential new members.
The award is named after the second president of Oklahoma Farm Bureau, whose philosophy centered on building strong county programs.
The Oklahoma Farm Bureau Annual Meeting is the organization's largest gathering of farmers and ranchers every year. At the event, members vote on grassroots policy, elect leaders and award outstanding individuals. OKFB has a presence in all 77 Oklahoma counties and serves as the voice of agriculture and the rural way of life. To learn more, visit www.okfarmbureau.org.
---
High-resolution photo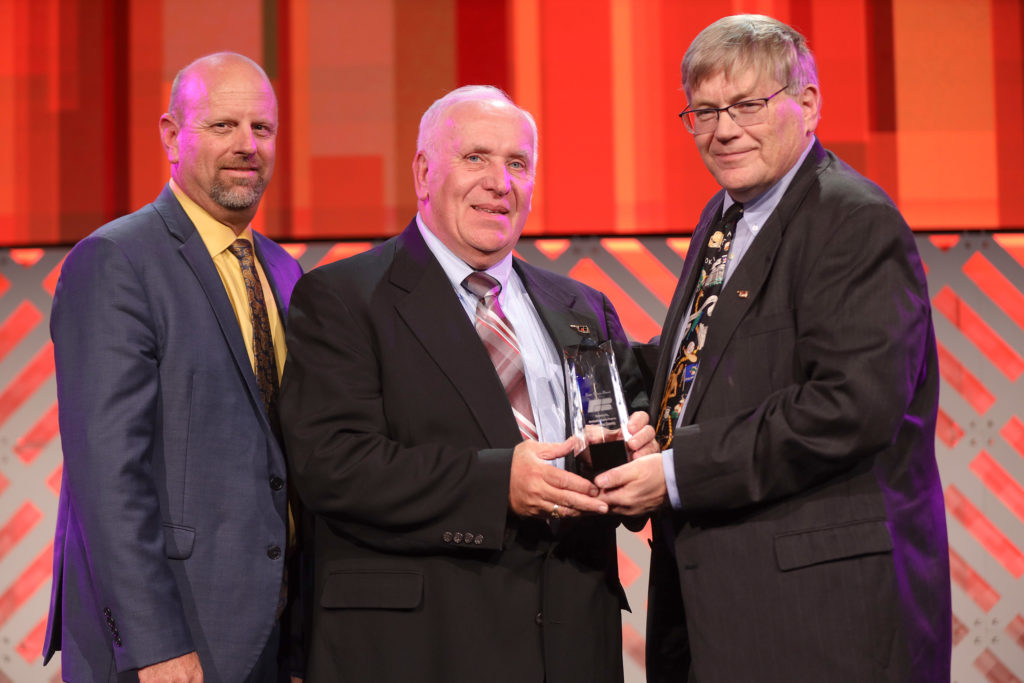 Download a high-resolution photo of Okmulgee County Farm Bureau President Jim Meek (center) receiving the 2019 Oklahoma Farm Bureau Lewis Munn Award from OKFB President Rodd Moesel (right) and Executive Director Thad Doye (left).